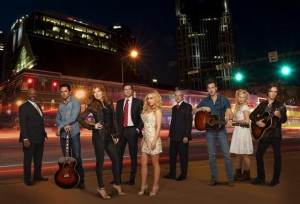 Rayna James' career is in a bit of a downward spiral when Nasvhille, ABC's new country music drama, begins.  While she's still playing to the crowds, this long-time country star isn't selling albums the way that she used to.  Enter young singer Juliette Barnes, who is heating up the charts.  When their record label suggests the two co-headline a tour – an idea that Rayna, the reigning queen of the music scene, rejects – Ms. James is forced to take a good look at her future.  Complicating matters is her husband Teddy, who is seduced by the promise of power being dangled by her estranged father, prominent Nashville businessman Lamar Wyatt.
Connie Britton and Hayden Panettiere play Rayna and Juliette, two women who are struggling to hang on to her career and striving for the top, respectively.  Nashville is a gem of a show, even for someone who isn't a fan of country music.  It blends the right amount of sass, songs, sin and drama.  ABC put together a featurette and preview (watch it below) featuring a sneak peek at the new series, along with interviews with Britton, Panettiere and other members of the stellar cast.
Nashville premieres Wednesday, October 10 at 10:00 p.m. ET/PT on ABC.
[FLOWPLAYER=http://www.tvovermind.com/wp-content/uploads/2012/08/nashville-copy.jpg|http://www.tvovermind.com/wp-content/uploads/2012/08/nashville.flv,450,300]