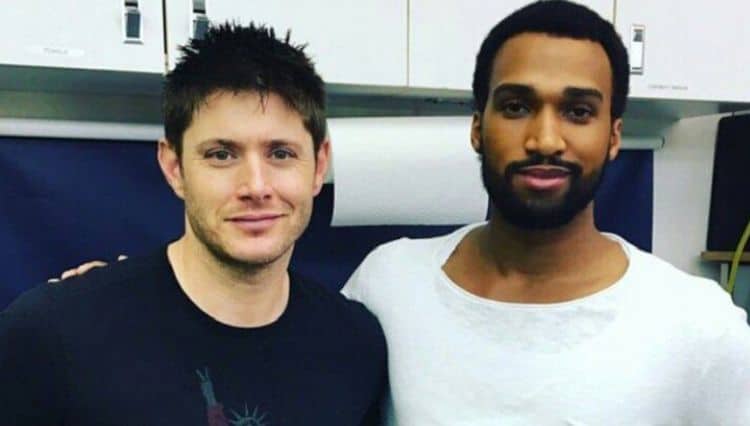 Acting can be a thankless job which is why lots of actors end up giving up. For many, the constant rejection and years of hard work with no reward simply isn't worth it. However, Nathan Mitchell has refused to give up and his time is finally coming. After years of minor guest appearances and recurring roles in TV shows, Nathan got a life changing opportunity when he was cast as Black Noir in the Amazon series The Boys. The show is his first time having a main role, but viewers would never be able to tell. Nathan has the confidence, poise, and talent of an actor who has been starring in projects for years. Continue reading for 10 things you didn't know about Nathan Mitchell.
1. He Has Some Interesting Things To Say About Season 3 Of The Boys
Spoiler alert: if you haven't seen season two of The Boys yet, you might want to ahead and skip this one. Those of you who have seen it will be excited to know that we may not have seen the last of Black Noir whose story took a turn during season two.  When talking about the future of his character he said, "He's not dead. And hopefully he will come back before most think he will."
2. He's From The Same City As PartyNextDoor
Over the last several years, Canadian entertainers have been making huge impacts on the American entertainment industry. Music fans may find it interesting to know that Nathan Mitchell is from the same city in Canada as R&B artist and Drake affiliate PartyNextDoor.
3. He Loves Art
Nathan is an artist in his own right, but acting isn't the only form of art that he has love and appreciation for. He is also a huge fan of visual arts and he loves looking at different forms of art including murals and paintings. Sometimes he even shares images of pieces that he really enjoyed.
4. He Has West Indian Roots
There isn't any information on the internet about Nathan's parents but we do know that their roots are in the West Indies. Nathan was born and raised in Canada, but his ancestry traces back to Jamaica and Trinidad. Nathan is very proud of the cultures that have come together to make him who he is.
5. He Is A Black Belt
Before Nathan began his career an as actor, there was something else he was really passionate about: martial arts. Nathan trained in taekwondo for 10 years and he is a black belt. He even competed in Junior ITF Tae Kwon Do Championship in Canada. When preparing for the role of Black Noir, he tapped into his martial arts training.
6. He Loves Hanging Out By The Water
Canada has a reputation for being a very cold place, and Mississauga is no exception. After having spent so much time in a cold climate, it's easy to see why Nathan would really love visiting tropical environments. Nathan enjoys being in warm weather and spends a lot of time at the beach.
7. He Attended Ryerson University
In the acting world there has always been lots of back and forth about whether or not it's important to seek higher education. After all, there are lots of actors who have had very successful careers with little to no formal training. On the other hand though, many actors also believe that formal education is an important part of the puzzle. Nathan attended Ryerson University in Toronto where he studied radio and television.
8. His Favorite Things About Playing Black Noir Will Surprise You
Being cast in The Boys has been a life changing experience and there are a lot of things Nathan loves about playing Black Noir. His favorite things about the role, however, are probably things you wouldn't guess. He told Nightmarish Conjurings, "My favorite part is the moments of randomness and awkwardness that I get to bring to him because you don't expect that. You see this…it's like a singular vibe, dark, menacing, you know, this like Ninja that could just rip you to shreds. I have fun playing with the other moments, the moments they counter those expectations."
9. He Has Nothing But Good Things To Say About His Experience On The Boys
Just because an opportunity appears to be good on the surface doesn't mean that's really the case underneath it all. We've all heard of situations where an actor had a really bad experience on the set of a project that was a big part of their career. Fortunately for Nathan, however, his experience with The Boys has been overwhelmingly positive. While talking to Belle Gaudreau on YouTube, he had nothing but good things to say about his cast mates and the production team.
10. He Was In Supernatural
Since Nathan's face is covered while he plays Black Noir, some people don't realize that they may have seen him before in other things. Some people may be surprised to know that he was in a couple episodes of Supernatural in 2017 as a character named Kelvin.