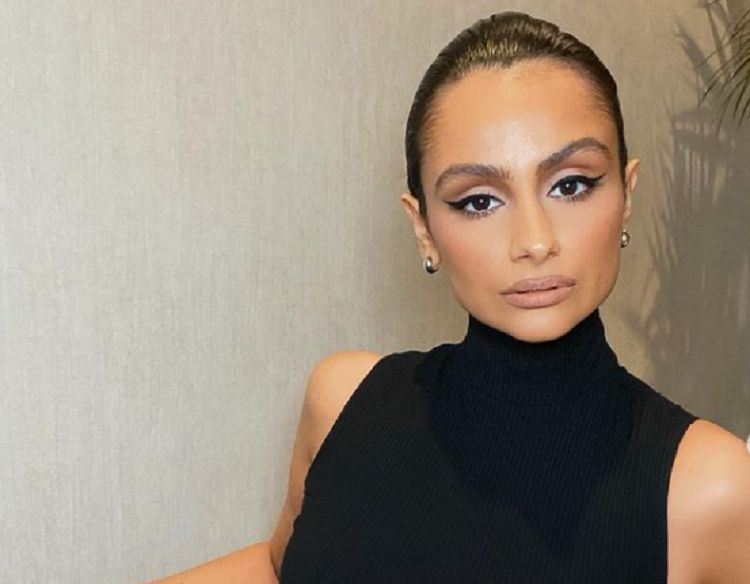 In most people's minds, Nazanin Mandi is best-known for being married to music superstar, Miguel. The couple married 2018 and have been the talk of countless blogs ever since. In reality, however, she's much more than that and she's getting ready for her time to shine. After years of working hard on a variety of endeavors, Nazanin is finally starting to see the fruits of her labor. Her creative talents are nothing short of impressive and she's excited to share everything she can do with the world. You may not be used to hearing Nazanin Mandi's name just yet, but hopefully that'll change by the end of 2021. Keep reading for 10 things you didn't know about Nazanin Mandi.
1. She Was A Contestant On American Idol 
Nazanin's husband is such a famous singer that her own singing aspirations have often been overshadowed. What lots of people don't realize is that she has been singing for most of her life. When she was a teenager, she appeared as a contestant on American Idol, but unfortunately she was sent home because she didn't meet the minimum age of 16.
2. She Had An Unhealthy Relationship With Diet Pills
Anyone who has spent any time in the spotlight will likely tell you they've felt lots of pressure to look or act a certain way. Nazanin knows first hand just how harmful this pressure can be. During an interview with Elle, Nazanin said, "I was 24 years old when I got on diet pills. If I didn't take them, I'd have panic attacks." She eventually underwent therapy to help curb her addition to the pills.
3. She Was In An Episode Of That's So Raven 
On top of being a talented singer, Nazanin is also an actress. During an interview with Tangible Movement, she shared that acting is what she's most passionate about. Although she doesn't have a lot of screen experience, she has had some cool opportunities. Nazanin made her first on screen appearance in 2004 in an episode of That's So Raven.
4. She's A Brand Ambassador For Savage X Fenty
Nazanin's good looks have turned heads all around the world and she is often widely regarded for her beauty. Despite that, she always felt that her short stature would prevent her from having a career in modeling. Still, things have managed to work out for her on the modeling front. She is now am ambassador for Rihanna's Savage X Fenty line and she even appeared in a fashion show for the brand.
5. She Can Sing In 5 Languages
The more you learn about Nazanin Mandi, the more impressed you will be by her. She comes from a very diverse background and according to her bio, she can speak in five languages although it doesn't mention which languages these are. Her ability to do this will definitely help her achieve international success.
6. She Likes To Read
Nazanin probably doesn't get as much free time as she'd like, but when she does get a moment, reading is one of her favorite ways to spend it. She enjoys reading self help books and often shares pictures of her current read with her followers on social media.
7. She Suffers From Anxiety
Mental health can be a sensitive subject, but it's one that Nazanin isn't afraid to talk about. She has been open about the fact that she suffers from anxiety. While talking to Tangible Movement she said, "When I find myself anxious, I have to take control of my mindset and talk myself out of my negative thought patterns. Working out and hiking does the trick as well."
8. She's A Life Coach
Why pick just one lane when you can be successful in several? Nazanin's journey is proof that it's possible to focus on more than one area. In addition to everything else she does, Nazanin is also a life coach. She enjoys working with other people to help them reach their full potential and find happiness and positivity.
9. She's Always Looking To Reach A New Level Of Success
Celebrating your accomplishments is an important part of any journey, but it's also important not to get complacent. Nazanin told The Arcadia Online, "I'm never fully satisfied when it comes to personal success, it might be the virgo in me. There is so much more out there for me that I have yet to even touch. For me, success is a journey that I'm slowly learning to enjoy."
10. She Had A Reality Show
Reality TV star isn't a term that is commonly associated with Nazanin, but there was a point in time where she was on a reality show. Nazanin was a cast member on the short lived series The Platinum Life which aired for just one season in 2017. Although she enjoyed the experience, she told In The Know that she wouldn't do it again.