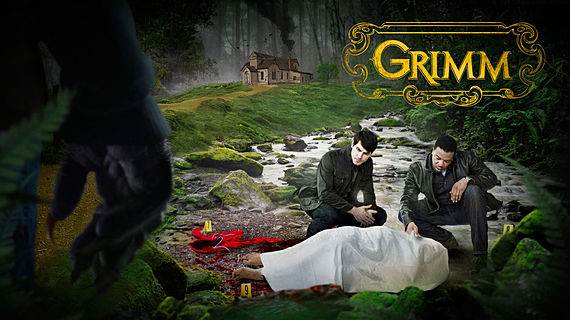 Out of the four genre dramas that were in contention for a slot on their Fall 2011 schedule, NBC decided to go with only two, Grimm and Awake (formerly REM). Let's look at Grimm first.
Grimm comes from the minds of David Greenwalt (Buffy the Vampire Slayer, Angel) and Jim Kouf (Angel, "National Treasure") as the duo brings the Grimm's Fairy Tales to modern times, letting viewers know that they weren't just stories. They were warnings.
Spooky, indeed.
At the center of this supernatural drama is Nick Burkhardt (David Guintoli, The Deep End), a homicide cop who finds out after an attack by a mythical creature that he's the last of the Grimms, a family of fighters who keep the supernatural at bay from harming humans. So instead of regular perps like thieves, murderers, and serial killers, Nick must face the unusual mythological perpetrators such as werewolves, trolls, and other beasts from the 'fairy tales' of old. Maybe he will want to put in a request to Special Victims Unit? I hear there is an opening…
Anyway, the show will probably be a hit with genre fans with its hero's journey aspect that reminds us of Buffy the Vampire Slayer, Reaper, and other shows of its ilk. In this first clip, Nick's Aunt Marie (Kate Burton, Grey's Anatomy) fights off the troll while Nick watches in horror before joining in the fray.
Who knew Meredith Gray's mom could kick ass?
The next clip features Aunt Marie passing on the knowledge of the Grimms to Nick, who obviously didn't sign up to become a monster slayer. Oh well, that's life, man.
It's a bit late to put in that transfer now, Nick.
Finally, there is an encounter with a werewolf, who we hope ends up being a good guy of sorts.
Now that Nick knows about the world of the supernatural, he has one other beast to worry about: Grimm's Friday night time slot.
If Grimm manages to beat that monstrosity, then the rest is easy…
Grimm, which also stars Russell Hornsby, Bitsie Tullock, Silas Weir Mitchell, Reggie Lee, and Sasha Roiz, will air this fall @10/9c on NBC.