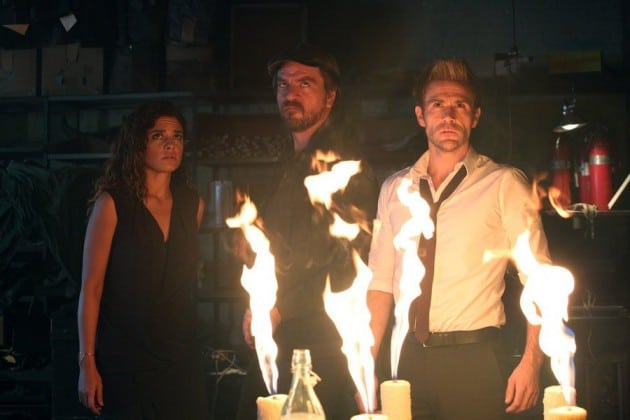 Despite a strong outpouring of support from fans on social media, Constantine could not be saved at NBC. The freshman series was cancelled by the network earlier today.
Constantine aired 13 episodes during its first and only season on NBC. Signs pointed to the DC Comics series getting the ax after the Peacock decided not give the show a back nine order. Its Season 1 finale aired back in February.
Constantine showrunner Daniel Cerone was the first to share the cancellation news on Twitter, but as many fans have expected, he noted that a new home for the series is definitely a possibility, as Warner Bros. attempts to shop it around to different networks and streaming services.
NBC a "no" for Season 2. Warner Bros working hard to find #Constantine new home. Stay active. Stream. Tweet. #SaveConstantine #Hellblazers

– Daniel Cerone (@DanielVCerone) May 8, 2015
Thanks to @NBC for Season 1. Got a nice call from the powers there. We were considered but they feel they had a strong development season.

– Daniel Cerone (@DanielVCerone) May 8, 2015
In addition to Constantine, NBC also cancelled four other series. Two of the network's freshman comedies, Marry Me and One Big Happy, have been axed, while second year sitcom About a Boy will also not be returning. The cancellation of all three of these series illustrates, once again, the depletion of comedies for NBC, which cancelled Community last year and saw Parks and Rec conclude its final season back in February (Community and Parks were the only two remaining series from what used to be NBC's big Thursday comedy block).
Lastly, NBC also cancelled the Katherine Heigl-led drama State of Affairs after a low-rated first season.
Which NBC series will you miss the most? Comment below and let us know.
[Photo via  NBC]