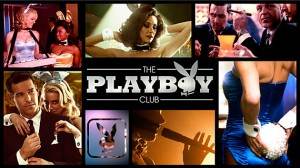 NBC has revealed their Fall 2011 Primetime Schedule and we at TVOvermind have sneak peeks of what the Peacock network has to offer. First up is a preview of the Mad Men-esque drama, The Playboy Club.
This period drama takes place at the exclusive Playboy Club in 1960s Chicago where fantasies are played out nightly for those who hold the most sought after Playboy key, gives the owner access to not only the Club itself, but also to status and power within the city as well. Nick Dalton (Eddie Cibrian, CSI:Miami), a hot shot lawyer and a "playboy" himself will be the center of all the drama due to his ties to 'aging Playboy bunny' Carol-Lynne (Laura Benant, "Take The Lead) and new 'bunny' Maureen (Amber Heard, "Drive Fast"). Nick will also have ties with the mob, which is never good for anyone. Seems like Nick will be a busy man… But what we would like to know is whether or not Don Draper would give the "playboy" his seal of approval? Yes, folks. The Mad Men comparison machine is up and running so get used to it.
Here are three clips that give us a look at what's to come. The first clip gives us glimpse at just how exclusive and powerful the Playboy Club, and those who have access, was back in the day.
The next clip introduces us to Maureen and two other bunnies Alice (Leah Renee, "True Confessions of a Hollywood Starlet") and Brenda (Naturi Naughton, "Fame") as they marvel at Carol-Lynn, the first Playboy bunny.
Finally, we have the last clip which gives us a glimpse of the hell that just fell in Nick's lap in the form of Maureen and a very dead member of a powerful crime family known as the Bianchis.
Besides the mob debacle, there are other characters that will populate the Playboy Club with their own drama, most notably the couple of bunny Janie ( Jenna Dewan Tatum, 'American Virgin') and her boyfriend Max (Wes Ramsey, CSI: Miami) who are butting heads over Max's smothering demeanor when it comes to Janie's position as a bunny. There is also the tension between Carol-Lynn and the club general manager Billy (David Krumholtz, Numbers), who might be the one making an issue out of the first Playboy bunny's age.
Seems like the show will be pretty interesting. But that's up to the viewers this fall. Will you be one of them?
The Playboy Club will air Mondays @10/9c this Fall on NBC.