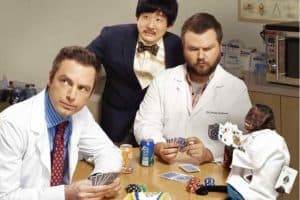 Utilizing NBC.com, various NBC owned/operated affiliate station websites, Hulu, iTunes, Xbox, and Amazon, in addition to various VOD platforms, the network will make every new fall show this season available for a period before their official premiere. No time frames of availability have been released yet, but for reference, FOX is making The Mindy Project and Ben and Kate legally available for two weeks about a month before their premiere.
In addition, NBC will premiere commercial-free cuts of Go On (August 8th) and Animal Practice (August 12th) during the Olympic coverage, as well as a six-minute tease to the Eric Kripke/J.J. Abrams drama Revolution following a swimming competition on August 4th at 10:54 P.M. The last time that NBC had the Olympics, they previewed Kath & Kim, Crusoe, and My Own Worst Enemy, none of which made it to a second season.
Last season, NBC had mixed results putting pilots online. While Smash made it to a second season, Awake was cancelled this past May. In terms of the rest of television, while there may be successes from making a pilot available early (New Girl, Hart of Dixie), there are several cases where it didn't help (GCB, The Secret Circle, The River), so there's no way to predict how this will help NBC. It may help build hype around each respective show, but if enough viewers are turned off by a pilot, it may make a show DOA when it wouldn't have been otherwise.
This fall, NBC will be premiering two dramas (Revolution, Chicago Fire) and four comedies (Go On, Animal Practice, Guys with Kids, The New Normal). You can check out all of NBC's fall premiere dates here, as well as a first look at each show here.
Will you be giving any/every NBC fall show a try now? Do you like the trend of putting pilots up before their official premiere date? Which fall shows are you anticipating the most?
UPDATE: According to Cinema Blend, here are the dates sampling begins for each show:
Go On – August 9
Animal Practice – August 13
The New Normal – August 29
Guys with Kids – September 13
Revolution – September 13
Chicago Fire – September 27