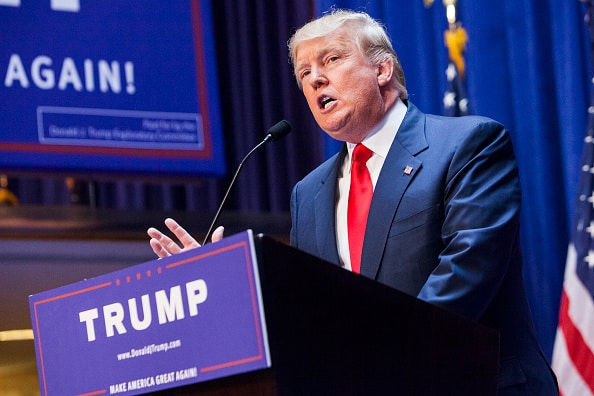 "You're fired." Donald Trump is usually the one delivering that phrase to contestants on The Apprentice and Celebrity Apprentice, but he was on the receiving end of those words today, as NBC has officially cut ties with the Republican presidential candidate.
The network's decision to discontinue  its "business relationship" with Trump comes after a week of constant pressure from viewers over Trump's recent comments regarding illegal immigration from Mexico, as he suggested that immigrants largely consist of criminals. After Trump's controversial comments, a petition at Change.org was created, requesting that NBC cut all ties with Trump; as of yesterday, June 28, the petition had reached 20,000 signatures.
With this decision, NBC, which has  been the home to Trump's beauty pageants, Miss USA and Miss Universe, will no longer air the competitions. Additionally, Trump will no longer be the host of his reality series The Apprentice or Celebrity Apprentice, although both series will seemingly continue to be broadcast on the Peacock.
Here's the official statement regarding Trump from NBC Universal:
"At NBC, respect and dignity for all people are cornerstones of our values. Due to the recent derogatory statements by Donald Trump regarding immigrants, NBCUniversal is ending its business relationship with Mr. Trump. To that end, the annual Miss USA and Miss Universe Pageants, which are part of a joint venture between NBC and Trump, will no longer air on NBC. In addition, as Mr. Trump has already indicated, he will not be participating in The Apprentice on NBC. Celebrity Apprentice is licensed from Mark Burnett's United Artists Media Group and that relationship will continue."
Photo by Christopher Gregory/Getty Images