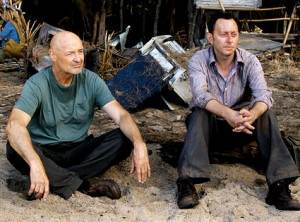 With less than one hour to go until J.J. Abrams' Undercovers premieres on NBC (and just two days after the report that J.J. was shopping the project) Vulture has broken the news that the network has picked up another Abrams project and given it a pilot commitment.
That's right, it's the much talked about show that features ex-castaways Terry O'Quinn and Michael Emerson. The show has been described as a comedic drama, was said to have the working title Odd Jobs and will feature the two men as former black ops agents. The report states that Josh Appelbaum and Andre Nemec (Alias) are writers and executive producers and Abrams and Bryan Burk are also executive producers.
We're now one big step closer to this becoming a reality. This is great news for all of us who are celebrating the six-year anniversary of the LOST pilot airing on ABC.
Happy LOST day, everyone!