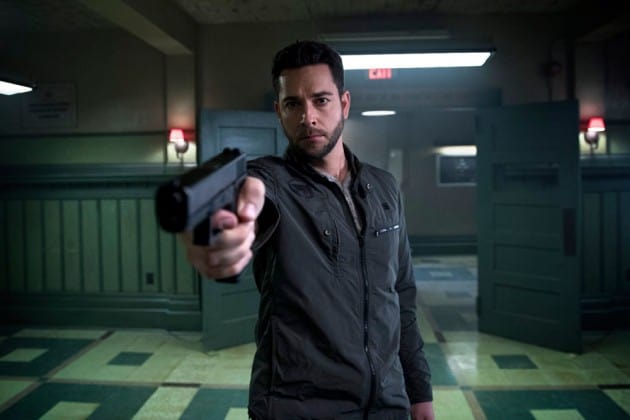 San Diego Comic-Con will be taking place in just a couple weeks, and one of the most anticipated series of the 2015-2016 TV season that will be there is Heroes Reborn, a continuation on the original Heroes series that ended after four seasons in 2010. While footage was shown at the NBC Upfront to press back in May, it was never released to the public to see, but today, NBC gave fans the first official look at what is in store in Heroes Reborn.
Fans of the original series will remember the famous slogan "Save the Cheerleader, Save the World" and it seems "Where are the Heroes?" is what Heroes Reborn will be going with, hoping it will catch on with old and new audience members. NBC also provided an official description that reveals all the character names for the new cast while also giving us an idea what we can expect from the 13-episode event series.
"A year ago, a terrorist attack in Odessa, Texas, left the city decimated. Blamed for the tragic event, those with extraordinary abilities are in hiding or on the run from those with nefarious motives.Two such vigilantes include Luke (Zachary Levi, "Chuck") and Joanne (Judith Shekoni, "The Twilight Saga: Breaking Dawn – Part 2"), who are seeking to avenge a tragic loss. Noah Bennet, aka H.R.G. (Jack Coleman, "Heroes"), has gone off the grid but conspiracy theorist Quentin Frady (Henry Zebrowski, "A to Z") finds him and opens his eyes to the truth behind the Odessa tragedy.

While in hiding, some are discovering their newfound skills. Awkward teen Tommy (Robbie Kay, "Once Upon a Time") just wants to be normal and win the girl of his dreams, Emily (Gatlin Green, "Criminal Minds"), but normalcy is virtually impossible after learning of a new ability that terrifies him. Coming from a very sheltered upbringing, a bold and ethereal teenager, Malina (Danika Yarosh, "Shameless"), has been told she is destined for greatness. In Tokyo, a quiet and unique young woman, Miko (Kiki Sukezane, "Death Yankee 3"), is trying to track down her missing father while hiding an extraordinary secret that will make her a force to be reckoned with. Elsewhere, a different type of hero is emerging through former soldier Carlos (Ryan Guzman, "The Boy Next Door")."
Despite not being referenced in words, it does appear that the events of the Season 4 finale, when Claire Bennet (Nashville's Hayden Panettiere) decided to come out to the world by revealing her abilities, thus also outing that people with powers exist in the world, has left its effect on this incarnation of the series. In the official announcement a year ago, it was being teased that Heroes Reborn would go back to the roots of Season 1 of Heroes, with people discovering their abilities, and that can be clearly seen here.
Former Heroes stars Jimmy Jean-Louis, Masi Oka, Noah Gray-Cabey, Greg Grunburg, Christine Rose, and Sendhil Ramamurthy will reprise their roles as The Haitian, Hiro Nakamura, Micah Sanders, Matt Parkman, Angela Petrelli and Mohinder Suresh, respectively, in guest starring capacity.
Heroes Reborn will air on Thursday nights, 8/7c on NBC starting on September 24.  
https://www.youtube.com/watch?v=BHClJhC8Wfs
[Photo via NBC]