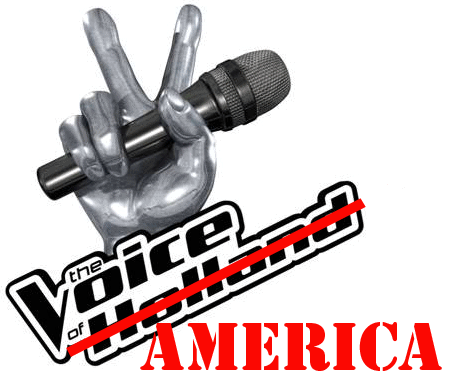 NBC is taking a bold shot at Fox's reality competition throne as it attempts a singing contest of it's own with The Voice of America.
According to The Hollywood Reporter, Reality TV mastermind Mark Burnett is spearheading an Americanized version of the Dutch hit The Voice of Holland, fast-tracking it to air on NBC this spring well ahead of Fox's X-Factor, scheduled for next fall. This would make the third program on NBC's programming slate to feature the vocal talents of undiscovered wonders, what with newbie hit The Sing Off and the summer's America's Got Talent already in hand.
Despite the tweaks and modification's meant to set itself apart from the others – among other things a "blind" audition where the coaches (judges) cannot see the individual performing, only hear their voice – this attempt just reeks of desperation, as if NBC is a hungry hawk perched to feast on the limping beast that is American Idol as it begins its first post-Simon season.
It's no secret that NBC's schedule is catastrophically bleeding viewers faster than ever, and that it's been unable to generate numbers or loyal followers with any program in its new 2010 fall lineup. But is it the right move for NBC to risk flooding the marketplace with yet another show in this genre, especially with a name that sounds more like it should be centered on a group of young politicians than wannabe pop stars?
One could argue that there are dozens of crime dramas on television, but at least each of those only occupy one hour each per week during their given season. Between Idol, Talent, Sing Off, next fall's X-Factor, plus Fox's So You Think You Can Dance and ABC's Dancing With The Stars (pause for breath) not to mention the upcoming ABC Paula Abdul vehicle Live To Dance, we're already set to deliver up a collective 18-21 hours of weekly broadcast programming to such musical competitions within the next year – can we really afford another 2-3 to offer up to Voice each week?
That doesn't even begin to touch upon countless more hours devoted to reality shows like The Bachelor, Survivor, The Amazing Race, The Biggest Loser, and The Apprentice, among others, on broadcast television alone, which has slowly chipped away at scripted television, sending people thirsting for real character-driven stories to cable channels in search of creative satisfaction.
Could the advent of Reality TV ultimately be why cable is thriving and receiving more accolades now than ever before? It would be some kind of wicked irony if, in an effort to drive up revenue and viewership, the broadcast corporations actually shot themselves in the foot, lowering the bar on quality and losing the cache they used to hold.
That's the kind of sting only money can soothe, I suppose.
Admittedly, I'm a reality show bigot. There are only two or three within the entire TV landscape that I will guiltily enjoy behind closed doors. But this just feels like overkill.
What do you think?