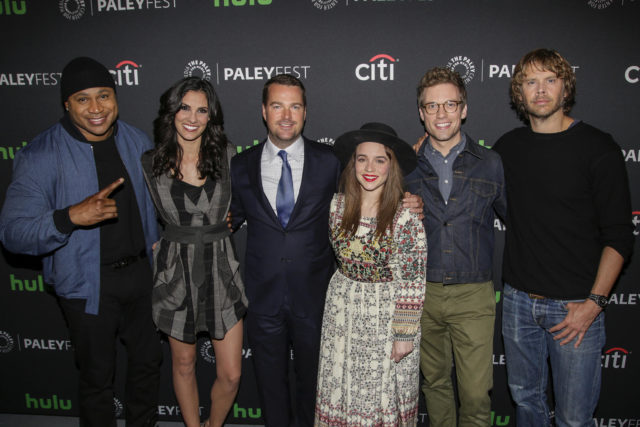 No one could've predicted that the spinoff to one of America's most beloved show, NCIS, would make a name for its own. When it was first announced that Chris O'Donnell and LL Cool J were to star together in this show, people were doubtful that they'd even have the chemistry to pull it off. After one season, they've convinced us all as if they'd been doing it forever. With 10 seasons under it's belt and still going strong, NCIS L.A. has become a favorite all on its own. Here are the cast members we believe will have the most success after the show ends—something we hope will not happen for a while.
Chris O'Donnell
Chris has done an excellent job as G. Callen, special agent extraordinaire. We've never really seen Chris do any true action roles before he took on this one, and we'd have to say that he was more than convincing for the role. Because of his background in drama, he's able to show us different facets and emotions for the role and not just straight up brawl. We think that once NCIS L.A. is over, Chris might transition into a similar role. So far he's done very few things outside of NCIS, but once it's over or close to over, we believe that Chris will go back into acting overdrive again.
Daniela Ruah
This Portuguese actress had little acting experience when she picked up the role of Kensi Blye on NCIS. There was something about her that was just unique and perfect for the role, but even with that, we weren't sure if she could handle such a big platform such as NCIS L.A. She proved us wrong with her acting chops. She proved that she could handle the drama, the comedy, and the action. She also showed that she could stand against big names such as Chris and LL Cool J and still shine on her own. Daniela has become an integral part of the show, and once the show ends, we believe that she'll have tons of offers for other projects.
Barrett Foa
With only 10 acting credits to his name, it's impressive that Barrett even got the role of Eric Beale to start with. Maybe he got it because of the fact that his previous acting experience (guest roles) were in some pretty big shows: Numb3rs, The Closer, Entourage, and others. Barrett's Eric is the tech guy in NCIS L.A., almost the composite of the original show's Abby and McGee. Those were two big pairs of shoes to fill, but Barrett has done a tremendous job balancing the comedy with the drama. He hasn't done much outside of NCIS L.A., but we feel that his career will simply skyrocket after the series.
Eric Christian Olsen
This one is surely one of the more familiar faces of the show. Eric has been in plenty of mainstream projects before he was picked up for NCIS L.A. Even after he got the job for NCIS, he still kept a busy schedule with roles in films and TV shows such as Battle of the Sexes (2017), Sun Dogs (2017), and Hero Factory (2010). Before NCIS, Eric had a good lineup of mainstream films, and we believe that once the show is over, he'll jump right back into making films with even more gusto and possibly some leading man roles. We can certainly see it now if we didn't see it before.
LL Cool J
There's absolutely no NCIS L.A. without the character of Sam Hanna in the picture. Sam is the perfect partner for Chris' G. Callen. He's a bit rougher around the edges, but he's still great. LL Cool J is one of the most recognizable names and faces in Hollywood, and he has done an extremely tremendous job of separating his previous persona to embrace the role of Sam. LL Cool J has maintained a steady acting role outside of NCIS L.A. separate from his music career as well. We think he should focus on acting some more because he's really skilled at it, and we believe that he'll just find himself with much better roles than what he used to get before NCIS L.A.