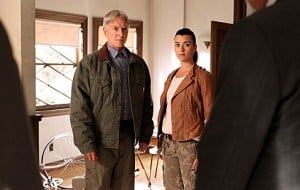 Tonight on NCIS, Colin Hanks returns as DOD Investigator Richard Parsons to tighten the screws on Agent Gibbs.
Last week we saw Parsons move from character to character interviewing and insinuating guilt. However, he eventually landed on Gibbs, shocking the rest of the team. Tonight we continue the investigation but more than that, witness Gibbs defence (or lack there of). The promo this week suggests that Gibbs runs away from his accusers, but anyone who has ever seen NCIS knows that this would be well out of character for the Agent.
Sneak peeks released this week show Parsons' attempts to interrogate Gibbs. However, the team leader, remains silent in his own defence, knowing that Parsons has largely manipulating the evidence against him.
Tonight's episode also sees the return of John M. Jackson as the prior Judge Advocate General A.J. Chegwidden. The former JAG is now retired from the military and practicing in private law and comes to act as defence counsel for Gibbs. It's a great shout out to the show that NCIS originated from (JAG, for those too young to remember) and also demonstrates the current drama's brilliant continuity in addressing passed story lines and characters.
This season has seen, both Tony and McGee deal with their ongoing father issues, Ziva and Vance come to terms with the loss of loved ones and given us a little more insight into the back-story of Abbey. Now in tonight's finale we see the story-line focus on Gibbs and not only are his actions of the last year in question, but across his entire career at NCIS. One thing we can be sure of is that the rest of the NCIS team will stick steadfastly by Gibbs as they all struggle to clear his name. The question remains, can they do enough to defend their leader and will Gibbs stand up and proclaim is innocence?
Be sure to watch the final episode of NCIS season 10 tonight at 8/7c on CBS
[youtube=http://youtu.be/Y23UmuSK9vQ&w=500&h=345]
[youtube=http://youtu.be/SmsjbS-YOKc&w=500&h=345]