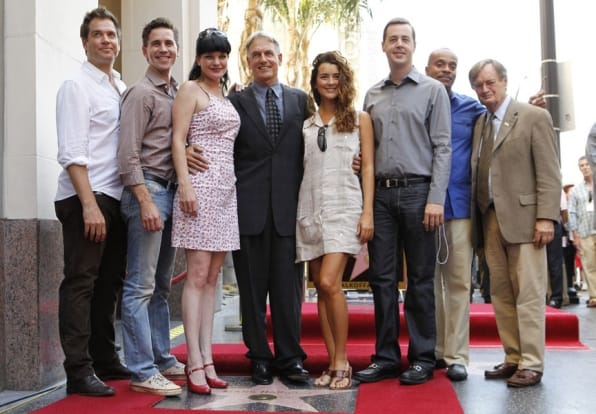 After a nearly 40 year career in film and television, NCIS star Mark Harmon has been honored with a star on the Hollywood walk of fame. Harmon was joined by his NCIS co-stars, the series has just kicked off its tenth season with absolutely no sign of slowing down.  Harmon's career in practically minted in Television, but he has been featured in several features as well; among his quirkier roles, Harmon played "Newspaper Reporter" in Fear and Loathing in Las Vegas, and stood in for Mickey Knox in faux video reconstruction  footage for Oliver Stone's ultra-violent Natural Born Killers.
"He was one of the first to say it's our duty, as a family, that when someone's having a bad day we need to carry them through."  Co-star Cote de Pablo said at the event. "That kind of attitude is very team-oriented."
Harmon has received tons of praise from earlier co-stars in the past, always characterizing him as an affable mentor and friend. One of those co-stars, Rocky Carroll, had worked with Harmon on St. Elsewhere before joining his friend once more on NCIS. "Guys like Mark tend to hang around for decades because they have this everyman quality that's very relatable. You get that sense that he's a moral person who lives by his own standards, but has a true sense of right and wrong."
"People like Mark amaze me," NCIS executive producer Charles Johnson said. "They work really hard at studying their characters. There's such an ease with him that he makes it look effortless." NCIS Director Tony Wharmy added, "He's one of the most committed professional actors I've ever worked with, and I've worked with quite a few; people like John Gielgud and Anthony Hopkins, and Mark's in that category."
Seems like getting a star on the Walk of Fame can take a while for TV stars.  Who knows, if NCIS hangs in there maybe a few other cast members will be honored in the near future. David McCallum, perhaps?  Just sayin.