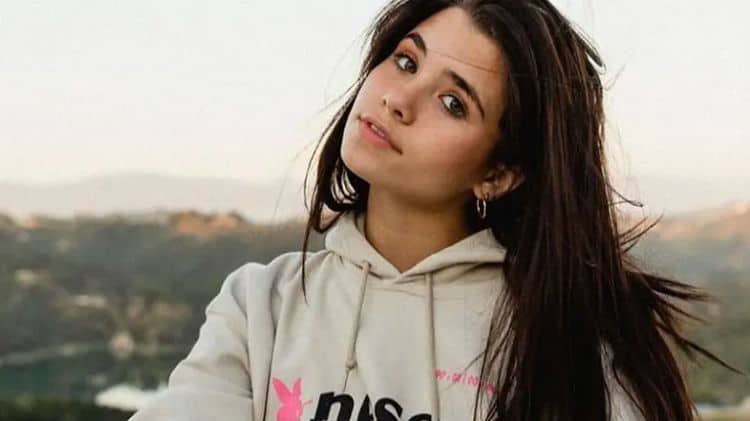 Thanks to the social media platform, TikTok, going viral has become easier than ever. The sporadic nature of the app makes it easy for users to find quality content based on their interests and not necessarily who they follow. This has allowed users like Nessa Barrett to reach a wide variety of people, and in turn, build up a large support base. Since creating her account, Nessa has gained nearly 8 million followers and almost 324 million views. However, having a large following also comes with lots of scrutiny, and this is something Nessa has learned during her time in the spotlight. Continue reading for 10 things you didn't know about Nessa Barrett.
1. She's Been On TikTok For Over A Year
Many other popular people on TikTok didn't start using the platform heavily until the COVID-19 pandemic. However, Nessa is somewhat of a veteran in terms of TikTok. She's been on the platform since March 2019. In just a little more than a year, she's been able to gain more followers than most people ever will in their entire lifetime.
2. She Posted An Insensitive Video
Nessa has recently got a lot of flack after posting a video of herself dancing to someone singing a verse from the Quran. Many felt like the video was disrespectful to followers of the Islamic faith. However, Nessa claims she didn't know initially the man was singing part of the Quran. She has since issued an apology to her followers. However, many people aren't buying it.
3. She's Signed To A Management Agency
Posting videos on TikTok isn't just a hobby for Nessa, it's something that she's turning into a full blown career. She is signed to TalentX Ent agency. According to the company's website, their mission is to "support, build, and grow" their clients' social media presence.
4. She Sells Merch
On top of people a social media celebrity, Nessa is also becoming a young entrepreneur. She has her own website where she sells unique apparel with her popular catch phrase "Sorry I'm Shy". At the moment, she offers hoodies and sweatpants.
5. Her Step Mom Is From Egypt
Although Nessa hasn't shared too much information about her personal life, she has revealed that her step-mother and her step-siblings are from Egypt. During the apology for her offensive Quran video, she said, "My step-siblings, like my step-mom is from Egypt and all that stuff, so… I know that it could have been taken offensively. I just want to apologize for anyone who took it that way and was offended, I think… I'm sorry to anyone that practices that religion."
6. She's A YouTuber
TikTok isn't the only platform where Nessa is working hard to make a name for herself. She is also a YouTuber who has already established a pretty strong following on the platform. Although she has 111,000 subscribers, she doesn't currently have any videos on her channel.
7. She Has A Boyfriend
Nessa is currently in a relationship with fellow Internet star, Josh Richards. Josh also has a large following on TikTok and is a member of the Sway House collective which is a group of other social media creators and influencers. He has also come to Nessa's defense against all of the backlash she's received in the Quran controversy.
8. She Would Love To Collab With Tana Mongeau
Nessa is enjoying the success she's already gotten, but she's also thinking ahead about who she'd love to work with in the future. The person at the top of her list is well-known YouTuber Tana Mongeau. Tana has over 5 million subscribers and is well-known for her comedic story time videos.
9. Her Sister Inspired Her To Join TikTok
Over the last several months, TikTok has become increasingly popular – especially among younger social media users. With that being said, it was actually Nessa's little sister who suggested that she join TikTok. Nessa admits that she got "obsessed" after joining. When she first created her account, she probably had no idea that she would eventually go on to build a massive following.
10. She Loves Meeting Her Supporters
Now that Nessa has gotten so popular, she often finds herself being recognized by her supporters. She loves getting the chance to meet and connect with people who love her videos. However, she says one thing that always catches her followers off guard when they meet her is the fact that she's only 4'11".