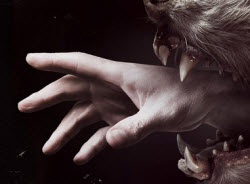 Despite getting relatively little press and love from critics, Netflix has declared the first season of Eli Roth's Hemlock Grove a success, and is now ordering another round.
The show didn't really make the pop culture impact of House of Cards or the revived Arrested Development, but this may be an important lesson about what constitutes "success" on Netflix. This is, after all, a service devoid of anything resembling "ratings," so we really have no way of measure what is or isn't doing well for them. It's all internal numbers and they have to answer to no one but themselves.
By whatever metrics they're using, Hemlock Grove was a success. Enough people must have watched it in order to deem it a hit no matter what critics said. And chances are it doesn't cost very much relative to the network's (channel? service?) other series as it doesn't star any big A-listers like House of Cards or Arrested.
Producer Eli Roth had this to say about the return of the show:
"The worldwide fan response to Hemlock Grove was phenomenal," said Roth in a statement. "Netflix members loved the potent combination of sexy monsters, mystery and the dark family soap opera that ended with a huge twist, leaving audiences worldwide totally shocked. Season 1 was just a warm up for what we have in store for Season 2.  Get ready to be scared in ways you never expected."
I didn't make it far enough to know what that twist was, but I'll leave it to fans out there to judge for themselves whether that was the case.
Anything that makes Netflix stronger and traditional networks have to rethink things is alright by me.