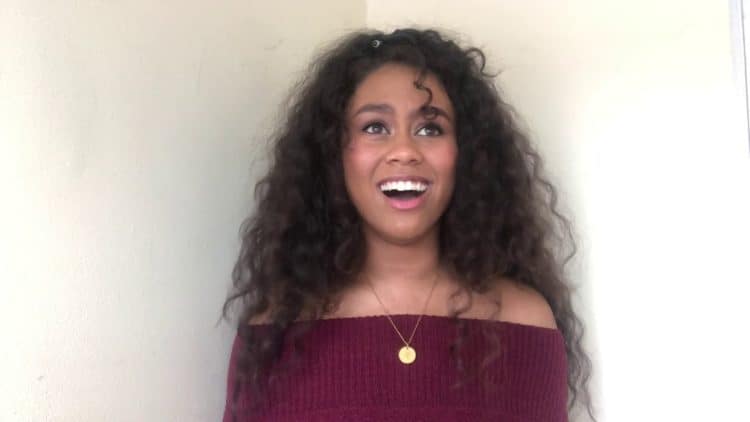 2021 has been a huge year for Netta Walker. Not only did she make a guest appearance in the popular CW series All American, but she also earned a major role in the spin-off series, All American: Homecoming. As someone who has been working on her craft for several years, both of these opportunities are a dream come true for the rising young star. Fans loved seeing her in All American and they're looking forward to seeing what she can do with more camera time in the spin-off. It's already clear that she has a very commanding on-screen presence, and she knows exactly how to bring her character to life in ways that are both authentic and entertaining. Keep reading to learn 10 things you didn't know about Netta Walker.
1. Family Is Very Important To Her
Netta isn't as active on social media as some people in the entertainment industry, but she's posted enough to make it very clear that family is one of her top priorities. She comes from a diverse background and has an Asian mother and a Black father. Sadly, Netta's father passed away although it's unclear when.
2. She Has A Boyfriend
After her appearance on All American, there's no doubt that Netta has earned a spot on lots of people's crush lists. However, she's already spoken for. She's in a relationship with a man named Jack Lancaster who also appears to be an actor. We aren't sure how long the two have been together, but it looks like they're going strong.
3. She Has Theater Experience
Netta may not have a long on-screen resume just yet, but that doesn't mean she hasn't gotten a good amount of acting experience under her belt. She has done quite a bit of theater work over the years and she's been in plays such as Hamlet, Grapes of Wrath, and Great Expectations.
4. She's A Florida Native
Netta was born and raised in the Jacksonville, FL area, but she moved to Chicago to attend Roosevelt University. While the entertainment industry in Chicago may not be as big as other places like Los Angeles and New York City, Chicago has a nice theater scene and has helped lots of talented people launch their careers.
5. She Likes Spending Time Outdoors
Netta's schedule has probably been pretty busy lately, but she still tries to make time for other things she enjoys. When Netta gets free time, she loves exploring the beauty of the outdoors. She enjoys relaxing by the water and also going on hikes. Not only is fresh air good for the body, but time out in nature can also be good for the mind.
6. She Has A YouTube Channel
Netta started a YouTube channel in 2012, but it doesn't look like she's ever had any interest in becoming a typical YouTuber. Instead, she uses the channel to post clips related to her acting career. At the time, the channel has just four subscribers and 118 total views.
7. She Isn't Afraid To Speak Her Mind
Netta is the kind of person who is very serious about standing up for what she believes in, and she has used her social media accounts to do just that. She has been very vocal about her stance on various topics including racism and mental health. As her platform continues to grow, she'll be able to reach even more people.
8. She Has A Beautiful Singing Voice
Acting is what Netta is best known for, but it's certainly not the only talent she has. Netta is also a great singer which is a skill that comes in handy as a theatre actress. That said, however, we didn't find any information to suggest that Netta has ever had an interest in pursuing a career in music.
9. She's Grateful For All Of Her Fans
Having a strong fan base is an important part of success in the entertainment industry, and it's not something that Netta takes for granted. She appreciates all of the people who have shown her love and support so far, and she's looking forward to reciprocating those feelings through her work. There's no doubt that her fan base will grow even more once All American: Homecoming debuts.
10. All American: Homecoming Is Her First Major Role
If Netta's face doesn't look familiar to you, that's because you All American: Homecoming will be her first time having a significant on-screen role. In fact, the series marks her fourth on-screen credit. Don't let that fool you, though. Netta is ready to put on such a strong performance that you'll think she's been in the industry for decades.