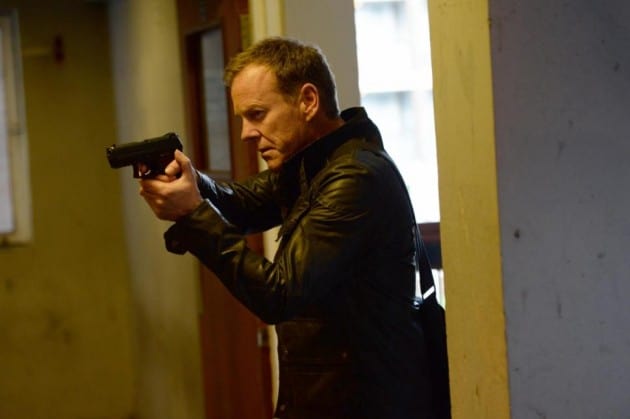 It looks like time has not yet run out on 24, but Jack Bauer's time as the series' hero may be up. According to a report from TVLine, FOX is developing an all-new 24 spin-off that would not focus on Jack but a new male character instead. However, 24 executive producer Howard Gordon tells TVLine the plan would be for Kiefer Sutherland to guest star as Jack throughout these new episodes.
Apparently, this 24 spin-off would center on a new male antihero, who works with an older, "more seasoned" female agent. This female agent would not be Yvonne Strahovski's Kate Morgan but another new character (however, TVLine says that Strahovski could still appear in the new show). The 24 spin-off would debut as a limited series, just last year's Live Another Day, but TVLine also reports that it could remain a more permanent fixture on FOX if it's successful.
Live Another Day's Manny Coto and Evan Katz will be the new series' writers and executive producers, and the spin-off will continue the original series' real time format. Essentially, it will tell the same type of story in the same style, just focusing on new, different characters.
Personally, as someone who has been a 24 fan from the very beginning, a fan who stayed with the series through its many ups and downs and absolutely loved last summer's Live Another Day, I'd rather not see the show end on a high note than try to continue on without focusing on the characters that have made it so great. I've already stated that I think any type of 24 series without Jack Bauer as its main character is not a good idea, but even if Jack wasn't the new show's main character, at least center it on someone the audience has an affection for, a character that could carry her own series, like Strahovski's Kate Morgan.
When more details about the spin-off come out, we'll make sure to provide you with the updates right here at TVOvermind.com.
Would you watch a 24 spin-off that didn't focus on Jack? Comment below and let us know.
[Photo via FOX]