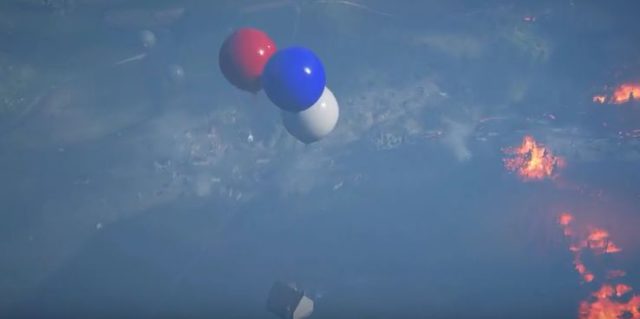 While I've never been a huge fan of the slang term "Easter Egg"  as an unexpected or undocumented feature in a piece of computer software or on a DVD, included as a joke or a bonus, I've gotten used to having to use the term.  Easter Eggs are extraordinarily common these days and actually have been for a while, they just weren't called "Easter Eggs."  When it comes to video games there's an abundance of special figures, scenes, jokes, songs, hidden worlds, or anything else that can be unlocked if you play the game correctly and make the right moves.
One game that's known for their intricate Easter eggs is Battlefield.   With the recently release of Battlefield 1's latest DLC They Shall Not Pass, it was only a matter of time before easters eggs were discovered. One of the first summons a floating house high above the battle in an homage to the animated film Up. jackfrags shows it off in the video below.  According to Kotaku
Like any Battlefield easter eggs, there's a bit of a process before the easter egg triggers. Playing on the map Verdun Heights, players must find three hidden bottles of wine and shoot them all. After that, they must hunt down and locate three rooster bearing weather-vanes around the map and shoot them as well.
Once done, a small house will float above the fray, carried aloft by three balloons bearing the French Tricolour flag. It's a silly bit of fun that seems a nice shout out to one of Pixar's best movies: Up.
Check out  the video below:
Speaking of the movie Up, now I'm really in the mood to see it.   Great film.