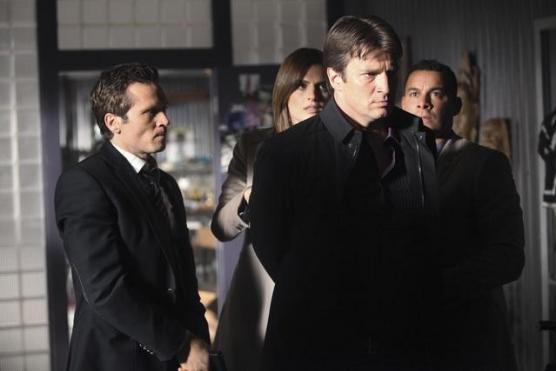 It's no secret that the TV series Castle was canceled after eight glorious seasons because Nathan Fillion and Stana Katic couldn't get along. Well, OK, many people said that they hated each other. And, ever since the cancellation was announced, everybody has been throwing around the idea that maybe it should simply be completely recast. The show must go on and all that.  But is this even feasible?  While fans continue to hold out hope let's take a look if this is even realistic.
Talented Cast
What made "Castle" so great was the talented ensemble cast. Yes, the writing and directing were pretty flawless, too. However, fans waited every week to see what each one of the amazing cast would do. They were all so real to us, from Castle and Kate's hot smoldering almost-a-relationship during most of the seasons to Castle's amazing family and friends.
And, then there was Castle's sweet redheaded daughter, Alexis, played by Molly Quinn. How much fun was it watching her grow up from an adorable little kid to a competent chip-of-the-old-block? By the final season, she could solve murder mysteries with the best of them. And, her dad was definitely one of the best. Under his boyish charm and often inane remarks beat the heart of a man who had been blessed with pure genius. Not only could he write great mysteries but he could solve them, too.
Castle's red-haired live-in mother was played by Susan Sullivan. Her character was as well-rounded and interesting as a supporting actress can possibly be and everybody loved her. And, then there were Beckett's co-workers, Esposito played by and Jon Huertas, and Seamus Deaver respectively. They also did an excellent job of eating up the scenery behind the two big stars. And, rounding out the cast was Tamala Jones as ME Lanie Parish, the on-again-off-again love interest for Huertas' Espo.
Equally Talented Guests
The "Castle" guest stars were pretty special, too. From Dana Delaney to the star of "Flash Dance", Jenifer Beals, to the co-star of "Last Ship", Adam Baldwin, and so many others, they were all great. And, we just loved the casting choice of James Brolin as Castle's father/master spy, Jackson Hunt. The episodes he appeared in were really some of the very best!
And then there were the recurring appearances of Castle's many real-life mystery writer friends who showed up at all of the poker games as if each was just one of the boys. They included the great James Patterson, Wes Craven, Stephen J. Cannell, and Michael Connelly. Wow! Who wouldn't want to play poker with those guys?
Castle Without Kate?
But, let's face it, the show would probably have never worked and most definitely would not work again without Fillion and Katic. Originally, when Katic announced her departures, Season 9 was still planned and storyboarded. But, in the end, the powers that be decided that the show would just not be the same without her. And, recasting her character was out-of-the-question almost as much as if they were to recast the Richard Castle character. But, not quite. Without Richard Castle, there would simply be no "Castle"!
Other TV Comebacks
Nope, fans would never accept a simple recast of their two favorite TV characters. They were truly irreplaceable. In addition, very few TV series ever come back from cancellation with the exception of two recent ones. "Nashville" was canceled much to the chagrin of every fan of country music out there only to reappear after being picked up by CMT. What better home for a show about country music than CMT? The other recent reboot is "Prison Break", which came back after eight long years after two of the stars, Wentworth Miller and Dominic Purcell got together on the set of another production and brainstormed it back onto the small screen via FOX. But, in both cases, the entire cast minus one or two minor players came back for the reboot, which is probably what is making them both work so well.
Just Say "No"
So, here's hoping that ABC and the producers of "Castle" don't even consider a reboot with a total recast. But, on the other hand, here's hoping that just maybe someday the show will come back complete with its original cast just like "Nashville" and "Prison Break". Until then, we just have our fond memories of "Castle" and all of those re-runs to keep us warm at night.