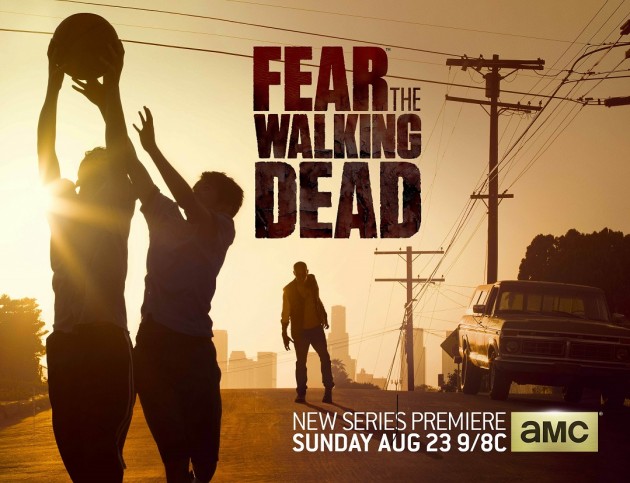 Easily the most anticipated premiere of the summer, Fear The Walking Dead is quickly approaching (well, at least a lot more quickly than the walkers in The Walking Dead have ever approach anything), and we've got a new poster for the series, showing a newly awakened zombie making its way towards two unsuspected friends playing basketball. However, something's telling me that this walker isn't looking for a game of HORSE.
Fear The Walking Dead, which has already been given a two-season commitment from AMC, will be a prequel to the original Walking Dead series, taking place during the early days of the outbreak in Los Angeles, with producers promising that the series will feel "distinctive and different" from its parent show. And just how will this new series stand out? Well, for one, the showrunners are promising that they "don't get to full apocalypse until the end of the season….It starts as a family drama, and we filter the apocalypse through that."
Fear The Walking Dead stars Cliff Curtis (Gang Related), Kim Dickens (Deadwood), Frank Dillane (Harry Potter and the Half-Blood Prince) and Alycia Debnam-Carey (The 100). Other members of the cast include Elizabeth Rodriguez (Orange Is the New Black), Lorenzo James Henrie (7th Heaven), Shawn Hatosy (Southland), Ruben Blades (The Counselor), and Mercedes Mason (666 Park Avenue).
The first season of Fear The Walking Dead will consist of six episodes, the same amount as Season 1 of the original Walking Dead series, and it premieres on Sunday, August 23, at 9 p.m. on AMC. Check out the new key art above, and if you haven't already, watch the first full-length trailer below.
[Photo credit:Â Frank Ockenfels/AMC]