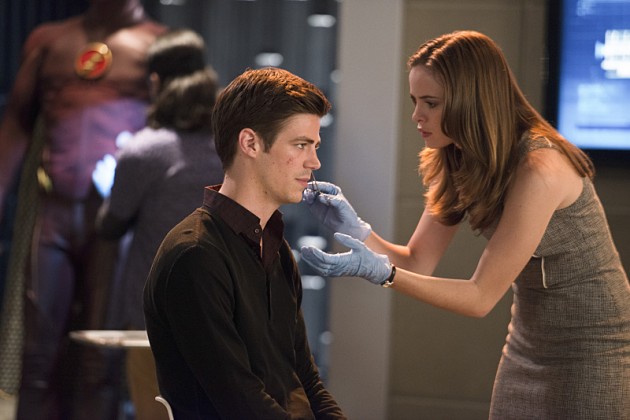 The Flash is one of the most anticipated new shows of the fall, and it deserves to be. The series' pilot, which will have a slightly extended premiere this coming Tuesday, is fun, smart, and confident unlike any other new network show that has premiered over the past couple of weeks.
Maybe The Flash had a leg up on the competition, since Barry (Grant Gustin) was first introduced to us last season on Arrow, but in just one episode, the series allows us to get to know Barry so much better than we had before and also develops a strong cast of supporting characters around him. Simply put: this is a show you need to check out. And once you do watch The Flash's series premiere this week, you'll want to watch the show's second episode, which is titled "Fastest Man Alive." Fortunately, we have over a dozen pictures from the episode right here for you.
We can't tell too much from the photos below, besides the fact that Barry injures his face in some way and has Danielle Panabaker's Caitlin Snow help him out. Also, Barry, Caitlin, Cisco, and Dr. Wells standing all together almost looks like the show's own version of Team Arrow. However, if you're interested in more specific details on the episode, check out The CW's official synopsis for "Fastest Man Alive" right here:
BARRY HAS FUN WITH HIS NEW POWERS BUT A SETBACK MAKES HIM QUESTION HIS ABILITY TO BE A HERO – Barry (Grant Gustin) escorts Iris (Candice Patton) to a university gathering honoring scientist Simon Stagg (guest star William Sadler). When six gunmen storm the event, Barry changes into The Flash and tries to stop them. While he does save a man's life, he passes out before he can capture the robbers, which frustrates him. As Dr. Wells (Tom Cavanagh), Caitlin (Danielle Panabaker) and Cisco (Carlos Valdes) scramble to find out what's wrong with Barry, Joe (Jesse Martin) comes down hard on Barry for taking the law into his own hands and risking his life. Barry realizes that it wasn't six gunmen but a metahuman named Danton Black (guest star Michael Christopher Smith), who can make multiples of himself. Meanwhile, Iris becomes even more intrigued by the "red streak." David Nutter directed the episode with story by Greg Berlanti & Andrew Kreisberg and teleplay by Andrew Kreisberg & Geoff Johns.
The Flash premieres this Tuesday, Oct. 7, at 8 p.m. on The CW.
Photo credit: Cate Cameron/The CW via Flash TV News