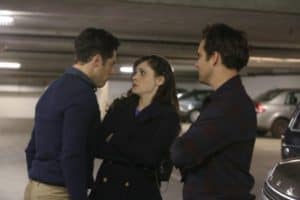 The episodes that follow a huge event on a show can be daunting as they have to live up to the epic moment that they created. They need to keep the momentum going and New Girl did just this with their first post-kiss outing.
This isn't just about the episode that immediately follows, but is something they need to keep going for the second half of this season. It is a challenge and one that the New Girl writers are up for; as you can see from the sneak peeks below they are not shying away from Nick (Jake Johnson) and Jess (Zooey Deschanel) interactions.
When a highly-coveted parking space becomes available the roommates battle it out to see who gets the spot, well it's really a case of Jess vs. Schmidt (Max Greenfield) with Nick as the decider. This puts Nick in a tough position and it could get more awkward when Jess attempts to flirt with Nick to help with his decision. In the last episode they both tried to convince the other that the kiss didn't mean anything and this denial continues as they attempt to not be weird around each other.
Throw Schmidt into the mix and the weird will increase as he finds out about their illicit moment tonight. Max Greenfield spoke to E!Online about Schmidt being told about the kiss and how "He has a more intense reaction" than Winston (Lamorne Morris). The combination of this contest for the parking spot and Schmidt's disappointment at finding out last should create a good level of shenanigans. Schmidt also has a secret though, as he hooked up with Cece (Hannah Simone) at the end of the last episode. They are far from being back together as Cece is still looking for an Indian husband and we will see the return of one her previous dates tonight.
Cece's date is likely to go as well as their first True American interrupted one as Winston is on a mission to find a condom and knocks on Cece's door. Yep you read that right, Winston is on a hunt for a condom after Daisy (Brenda Song) pays him an impromptu visit. Daisy was a fun addition a few weeks ago and this character seems like a good fit for Winston.
This is one of a batch of episodes that New Girl creator Liz Meriwether told The New York Times that "I've found that the kiss has actually invigorated the show and the characters. As opposed to letting the tension out, it's added spark and conflict and helped us focus." It certainly felt this way in the last episode and if it continues in this direction then I am more than glad that they have addressed this coupling at this time. Of course Nick and Jess won't become a couple too soon; they need obstacles and half of the fun is dealing with the development of their friendship. This is one of the most enjoyable shows on TV at the moment; a lot of this is down to the chemistry between the actors and because the writers have taken chances with how they have developed the relationships between the characters.
What are your thoughts on the Nick and Jess aspects of the story?
Watch five sneak peeks of tonight's episode "Parking Spot" below.