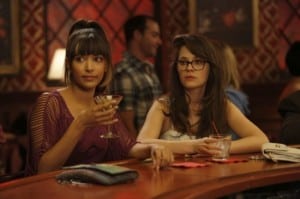 New Girl is back tonight and with just three episodes left of season 2 you can expect Nick/Jess tension to be at its highest. The group will share stories from their past as they each try and outdo each other with tales of how they lost their virginity; each person thinks they had the worst first time experience. That's right, it's time for multiple flashbacks and as you can see from the slideshow below there are a variety of looks going on with the teenage versions of these characters.
One thing New Girl isn't afraid of exploring is awkward sexual encounters and this storytelling occasion will put all of those previous moments to shame. This is a competitive group and so each recollection could get even more ridiculous and things that get mentioned include prostitutes, Nick's dad, bouncy castles, a giant jar of lube, guitars and prom. They also realize that these stories directly affect their present day sex lives and this could have a big impact on one relationship.
In the last episode the focus was on Cece and her forthcoming wedding to Shivrang; this relationship has moved at a rather quick pace and this was addressed in an argument between Cece and Jess. Jess was concerned that Cece has been compromising who she is and that the wedding is happening too soon. In this heated discussion Cece also gave Jess some home truths, telling her that it's ridiculous that Jess and Nick are acting like they're in 7th grade when they're both single adults. The pair made up and Cece asked Jess to be her maid of honor, even though it isn't a traditional part of an Indian wedding. Cece also discussed her relationship fears with Shivrang, one being that they haven't slept together yet and she explained that perhaps the thing that makes their relationship special is how quick this is all happening and that they're taking a leap of faith.
Schmidt has been trying to move on and get over Cece and in this episode he apologized for all the times he has been selfish. This was prompted by a visit to his first love Elizabeth, his college girlfriend from his big guy days. Elizabeth is not impressed by the person Schmidt has become and this gave Schmidt insight into how he can be better. It also led to one of my favorite Schmidt scenes as he went back to see Elizabeth with a stack of pizzas and let his inner big guy out, his pizza dance is wonderful.
Now back to Nick and Jess and after a challenge to take a photo of Shivrang's penis failed, Winston sent the one of Nick's instead. Everyone at the party was impressed, but this isn't the first time that Jess has seen this part of Nick's anatomy. In an early season one episode, Jess walked in on Nick naked and Jess then had an issue saying the word penis; we have definitely come a long way from that incident. Tonight promises to have a big development in their relationship.
Winston's last sexual encounter was a huge disaster when he tried to hook-up with Daisy as he went on an unsuccessful mission to find a condom and ended up wearing Daisy's pants minus his phone and wallet. Brenda Song will appear in tonight's episode as Daisy, but will she be part of the flashbacks or the present day story?
Another guest star tonight is Dylan O'Brien from Teen Wolf and he plays an important role in Jess' flashback. He's not Jess' prom date but as you can see in the sneak peeks below he is definitely the kind of guy that a teenage Jess would fall for as he strums Lisa Loeb's "Stay (I Missed You)" on his guitar.
Watch a promo and three sneak peeks for tonight's episode "Virgins" and click on the link below to browse through photos revealing the gangs teenage looks.
http://youtu.be/JI5tJymDU1Q