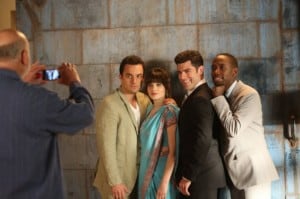 It's the New Girl season finale and time for Cece's big day or as the episode title says it's "Elaine's Big Day." Who is Elaine you might ask? Look no further than one of tonight's guest stars and no I'm not talking about Rob Reiner. There are several romantic entanglements that take center stage tonight as Schmidt questions his feelings for both Elizabeth and Cece. Nick and Jess have a big decision to make about their situation which is still undefined after the arrival of Jess' dad last week.
Jess and Nick still haven't properly talked it out about what sleeping together means for them as they have really crossed the line from friends into something more. Jess' dad Bob told Nick that Nick wasn't good enough for Jess as he sees a lot of his own screwed up qualities in Nick. Nick invited Jess to the roof to have a second attempt at the conversation but this was interrupted once again, this time by Schmidt, Elizabeth and Winston. Nick claims that Bob hasn't got into his head but the look of crushing defeat that he gives when Jess turns her back suggests the opposite.
This season has successfully explored the Jess and Nick dynamic and as I've mentioned before this is a hard line to walk when it comes to 'will they/won't they' couples. Weddings have a way of heightening romantic emotions and Jess and Nick will come to a decision tonight about how they will move forward with their relationship. Jess said the messy parts of life are the best parts but will Nick's confidence and self-worth issues stand in the way? They have come to a crossroads and it is time to finally address what they mean to each other.
One thing Nick attempts to do is not get involved with Schmidt and Winston's sabotage plan. One aspect of Winston's character that they have repeatedly shown this year is how terrible he is at pranks and when Schmidt asks for his help he leaps at the opportunity. As the Jess and Nick relationship has developed, so has Schmidt and Winston's with plenty of hijinks thrown in. Winston suggests dropping a badger into the wedding ceremony and this definitely falls into the terrible pranks category.
The other big romantic dilemma of the finale is between Schmidt, Cece and Elizabeth. Schmidt and Elizabeth work so well together because she challenges him in a way we haven't seen before; she unlocks a sweeter side of Schmidt and at the same time she doesn't take any of his crap. The New Girl casting department have done a fantastic job of giving the core characters such likeable love interests (this also goes for Shivrang) and I would be more that happy if Elizabeth became a permanent fixture as Merritt Wever is so good.
Schmidt believes that Cece has given him a look that would suggest she doesn't want to go through with the wedding. This wouldn't be a surprise as Cece has definitely shown signs of reluctance when it comes to this marriage, even though Shivrang is a decent guy. You shouldn't just marry someone because they are a good guy and for Cece it looks like there isn't that spark with Shivrang.
There is one more obstacle beyond Schmidt and a badger and that is guest star Taylor Swift. Swift has been referenced a couple of times on the show but instead of playing herself she is appearing as Elaine, an ex of Shivrang's. New Girl creator Liz Meriwether spoke to E!Online about Swift's performance saying "She's a fantastic actress. She did such a good job. Our set is a fun set to come to, but it's also a little bit crazy because there's a lot of improv and people shouting out extra jokes and she completely held her own and did such a great job with it."
Will the wedding go ahead? Are Jess and Nick going to end the season as a couple?
Watch an extended preview for tonight's episode and to browse through the wedding photos click on the link below.
http://youtu.be/bNT-R9IpwiA