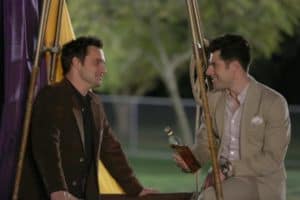 Over the past few weeks New Girl has focused on the fallout from the Nick (Jake Johnson) and Jess (Zooey Deschanel) kiss, and how it could change the dynamic of the loft. This situation is still addressed, but tonight they are focusing on the loft mates who have lived together the longest; Schmidt (Max Greenfield) and Nick.
Schmidt and Nick are celebrating their ten year anniversary of living together with a "TinFinity" party. Nick and Schmidt clearly have very different ideas of what the perfect party should include; Nick is all about the simple things whereas extravagance is perfection for Schmidt. Remember this is the guy who threw himself a rebranding party in the season 2 opener when his penis cast came off ('Danger' was the theme).
The planning for this party was mentioned in "Models" which focused on Nick scoffing at Schmidt's cookie gift; an episode that featured the amazing "Gave me cookie, got you cookie" scene. It is because of Schmidt's ability to care too much and Nick's closed off status that makes these kinds of moments and I think we can expect a whole slew of them tonight.
Now the Nick and Jess kiss is out in the open it is time for them both to move on, right? Last week showed that the phrase "You dropped your fish sticks" could be layered with so much sexual tension and it looks far from over. Jess is trying to play this down and will be on the lookout for someone to make her forget that epic kiss (and probably the not so epic one from Schmidt). Jess finds someone she thinks could be perfect; Jax (Steve Howey), a professional football player who Winston (Lamorne Morris) is meant to be interviewing. Will this result in some jealousy from Nick? Or make Jess realize how she really feels?
So far the New Girl writers have handled these post kiss episodes extremely well; it's still early but they've managed to raise the tension, maintain the humor and move the story forward. It is a difficult line to walk when it comes to will they/won't they couplings and so far it has been a success.
The other central romantic story is between Schmidt and Cece (Hannah Simone) and a big development could ruin this epic party for Schmidt. Last week saw the return of Shivrang (Satya Bhabha) and if he can handle a visit from Winston wanting a condom and the night at the loft, then he might be a keeper for Cece. Of course I'm in the Schmidt camp for Cece, but if Cece is determined to go through with this search for an Indian husband, this could spell the end of Schmidt and Cece.
New Girl is on a hot streak at the moment and it is hard to see it slowing down. There is confidence coming from the New Girl team and we are seeing a show that is producing episodes that are both funny and heartfelt. A sitcom should make us laugh, but we also need to care about these characters and their relationships and New Girl is doing just this.
http://www.youtube.com/watch?v=6AGNudSBS5s&version=3&hl=en_US