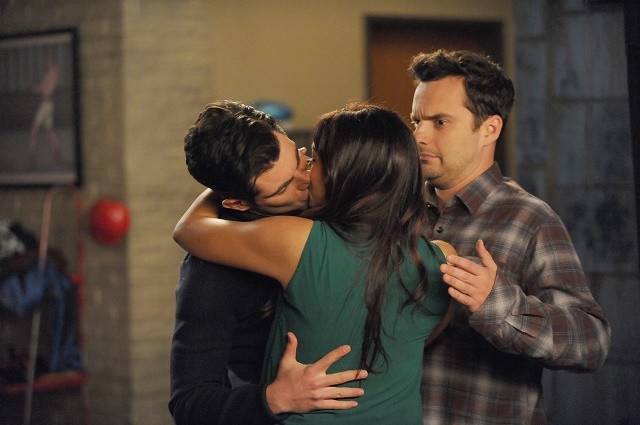 This week's episode of New Girl is pretty much an excuse to let Jake Johnson and Hannah Simone show off their comedic chops, as both actors are never better than when Nick and Cece are angry. And while the hilarious scenes Nick and Cece have together are enough on their own to make this episode an incredibly entertaining installment, the relatability and honesty of the situation they find themselves in solidifies "Jury Duty" New Girl's best episode of Season 5 yet.
In a way, with Schmidt and Cece getting engaged, New Girl has the opportunity to re-do a lot of the roommate stories it told in Season 1 in new and interesting ways. Adjusting to a new roommate (especially when they're not paying rent) is always difficult, but when that roommate is your best friend's fiance (or your fiance's best friend), it becomes even more challenging. How do you deal with this awkward situation without damaging your relationship with the person who matters most to you?
It's not an easy question to answer, and even by the end of the episode, New Girl hasn't given us a complete solution to the problem at hand. While Nick and Cece agree to be more mature and understanding of each other's flaws for Schmidt's sake, that doesn't automatically take away the still very present issues they have with one another. However, it does serve as a sweet reminder of how much Schmidt means to both of them and how unique each of their connections with him is.
While many of Nick and Cece's scenes throughout "Jury Duty" are hysterical (Nick's reaction to Cece calling him "not always funny" and her referring to him as "Nicole" might have been the biggest laughs for me), their best moment of the episode is when they are totally honest with each other, admitting that they're a bit jealous of what the other has with Schmidt. Again, admitting this doesn't totally fix the problems they have with one another, but it's a major step forward and a much better way of handling things than passive aggressive comments or talking behind each other's backs. It's consistent with the growth we've seen from New Girl's characters so far in Season 5; they're all getting older and moving into different phases of their lives, and each of them needs to become more mature as things continue to change.
And speaking of change, Jess, who is separated from the loft gang for most of the episode while on jury duty, will remain gone for the next few episodes, providing both New Girl's characters and the show itself its greatest challenge yet. Even though we've seen Jess take a backseat to other characters periodically throughout the sitcom's four-plus seasons, what will this show look like without its titular new girl at the center? Just like with the conflict between Nick and Cece, there's no clear solution to Jess's absence (although the show's writers believe they've found a temporary fix with Megan Fox's Regan, who will arrive within the next couple weeks). However, after a solid start to Season 5 , I've got faith that New Girl will rise to the occasion and show a new side of itself, just like its characters have done throughout this season's first three episodes.
Other thoughts:
As all New Girl fans will know, Jess will be gone from the show for the next few episodes because Zooey Deschanel went on maternity leave during production. I'll really miss Deschanel's presence on the show. Not only is she the titular new girl, but she's really become one of the series' comedy MVPs over the past couple seasons. Personally, she's my second favorite performer on the show, just behind Jake Johnson.
Also, while New Girl has done a pretty good job in the past of covering Deschanel's baby bump, it was visible quite a lot in "Jury Duty." It seemed like the crew just didn't care about hiding it anymore.
The end tag for this episode, with the gang reading Jess's advice slips, was one of the best the series has ever done. The shish kabob falling from the ceiling was just icing on the cake.
I wonder if we'll see any more from John Cho's character when Jess returns. It was originally reported that he'd be a recurring player in Season 5. Could he and Jess strike up an off-screen romance during the trial?
Schmidt wants to get married at the Denim Bar. Does that really surprise anyone?
Principal Foster and Jess really don't want Becky to be the principal: "She has fake zoomers. What kind of message does that send to girls with growing zoomers?""I think she got her butt done, too. Every time she runs that thing sounds like an Indian rain stick."
Jess's rules about boy shorts confuse Winston: "But where does the knee begin?"
Schmidt really doesn't want Winston to hang his dog painting: "I'd rather see a painting of Arnold Schwarzenegger mid-coitus."
"Have you ever heard a Russian baby scream?" "All the time in my Putin nightmares."
What did you think of this week's episode of New Girl? Are you worried about how the show will fare without Jess for the next few weeks? Comment below and let me know.
[Photo credit: Ray Mickshaw/FOX]
New Girl Season 5 Episode 3 Review: "Jury Duty"
Summary
A fight between Nick and Cece puts Schmidt in an awkward position in a stellar episode of New Girl.