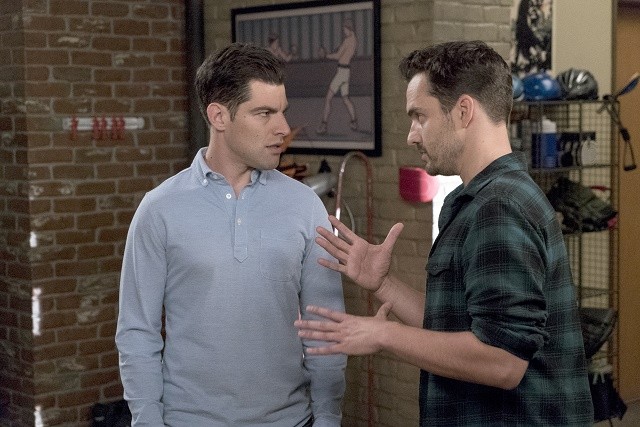 The best episodes of New Girl aren't always the funniest installments of the show. They're half hours that balance the comedy's wacky sense of humor with honest, authentic emotion, placing the series' characters into ridiculous, over-the-top situations, but allowing them to discover something new and real about themselves afterwards. "Bob & Carol & Nick & Schmidt" is another hilarious episode of New Girl Season 5, but it's also the best episode of the season because of how it takes these goofy, sitcom situations and uses them to provide its characters' relationships with even more depth.
When a show has been on the air for four-plus seasons and almost 100 episodes (tonight's installment was New Girl's 99th), it can seem like there isn't much more to explore or add when it comes to the dynamics between characters. There have been plenty of New Girl episodes that have dealt with Nick and Schmidt's friendship, some of them being very successful, while others have been more hit-or-miss. What more can really be said about these two? If "Bob & Carol & Nick & Schmidt" is any indication, apparently a lot.
Although it's Nick's cousins from Boston (wonderfully played by Bill Burr and Lennon Parham) that first make him consider what it would be like to have a kid (after they ask Nick if he would be willing to donate sperm so that they can have children), they're really just there to kick-start another terrific Nick/Schmidt story that reinforces yet again why these two are such great friends. There are so many moments from tonight's New Girl, from the somewhat small one of Schmidt having a Chicago Bears onesie already prepared to the much more direct declaration of him telling Nick that he loves the idea of their being another Nick Miller in the world, that illustrate just how much Schmidt cares about Nick.
And the best part about all of these moments between Nick and Schmidt are that they feel real and earned. Schmidt may be encouraging Nick to have a kid or to be more business-oriented, but he's still doing this in his typical Schmidt way. Simply look at the life plan that he has created for Nick, which has him having children with a small Italian woman, or when he screams at Nick to compose himself and "make a miracle or I'll squeeze one out of you like a bottle of mustard!"
Furthermore, Nick having a kid or taking on a bigger role at the bar don't feel like developments being forced on Nick by Schmidt. So much of these first five episodes of New Girl Season 5 has been about the loft gang growing up and moving forward with their lives, embracing the changes that lie ahead. Nick's maturity has been a major part of this newfound focus, and when it comes to him, it even goes back to Season 4; this is a journey we've been watching him on since his break-up with Jess in the show's third season finale, and each new step feels like the right one. Sure, Nick isn't making any giant leaps into full blown adulthood–he's not working a stable office-type job or getting married–but he has realized there are bigger things that he wants, and he's doing whatever he can to get closer to achieving them.
All of this leads to the final scene between Nick and Schmidt, when he gives him the Bear onesie back and tells him to keep until Nick has his own kid. Unlike the Nick of New Girl's early seasons, who would have immediately rejected Schmidt's life plan for him, Nick sees promise in what Schmidt has laid out. He wants to meet his Maria and become a dad, but he has to do it his way.
Nick and Schmidt are two best friends, and they're also very different people, who are at very different points in their lives. However, they've begun to respect those differences more and more and realize that the different ways and times that they achieve their goals is what is best for that person. They're starting to understand that all they need to do for one another is support what each other wants in life, proving that it's not just Nick who is doing all the growing up: their friendship is maturing as well, and as a result, it's becoming even stronger.
Other thoughts:
I didn't mention it above, but the Winston and Cece storyline in this episode is fantastic. Similar to the Nick and Schmidt story, it begins with some great comedic material (I could watch Winston drink champagne and critique Cece's wedding dresses and blow his whistle on a loop for the rest of my life), but then it leads into some really nice emotional moments: Winston does everything he can to help Cece return her dress, and she asks him to be a bridesmaid. Such a sweet, funny, and charming story for these two, and I'm so happy that the New Girl writers are giving us more classic Cece and Winston mess-arounds. They're the best.
Jake Johnson make his directorial debut with this episode, and I really appreciated how he kept most of the settings and staging simple and just let viewers focus on the conversations between the characters. With a show like New Girl, it's all about the rhythm of the characters' interactions, and that was perfect throughout "Bob & Carol & Nick & Schmidt."
Schmidt having already planned out his relationship with Nick's hypothetical scene is such a Schmidt thing to do. The details about the walkie-talkies and the broccoli are so great.
Nick might be poor, but he's the richest Miller. He can even order avocado: "The other day I was at a restaurant, and they asked if I wanted avocado. And I said, 'Yeah,' and they said, 'It's extra.' And I said, 'Shh. I know it's extra, but, but I want it.'"
Schmidt's Boston impression: the best, or the very best?
Maria: she makes meatballs and soup and does laundry in a wooden bucket.
Really liked how New Girl was able to incorporate Jess into this episode at the end even without having Zooey Deschanel. It makes total sense that Cece would want to show Jess her wedding dress as soon as she could, and Jess promising to fix it ensures that Cece will be much happier when she's walking down the aisle.
"They're not just reaching into your wallet this time. They're reaching into your skin wallet."
"If I had a dollar for every sperm, my room would be covered in dollar bills."
What did everyone else think about this week's episode of New Girl? Did you enjoy it as much as I did? Comment below and let me know. 
[Photo via FOX]
New Girl Season 5 Episode 5 Review:
Summary
Nick's cousins arrive with an interesting request in a fantastic episode of New Girl.