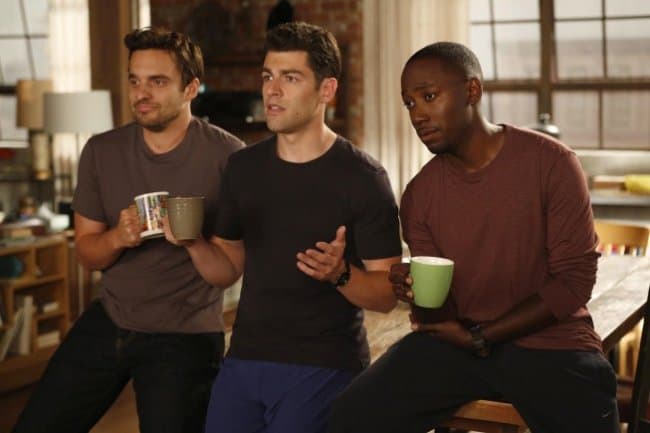 New Girl returns with not one but two episodes Tuesday, September 25 to launch Fox's comedy block and the second part will feature a couple of new love interests for Jess (Zooey Deschanel). Nick (Jake Johnson) will have a bizarre encounter at the bar as someone claims to be him from the future and we will meet Winston's (Lamorne Morris) basketball playing sister.
Jess tries to preoccupy herself as she has new found spare time now that she is no longer a teacher. Jess ends up with not one but two guys who have take an interest in her in this second episode. One is guest star David Walton (Bent) who creator Liz Meriwether describes as Jess' new "f**k buddy" Sam and it is a case of mistaken identity that brings them together. The other is Book of Mormon star Josh Gad who is playing the interestingly named Bearclaw and he wants to challenge Sam for Jess' affection. This news of potential romantic interests that aren't Nick might displease some fans, though Jake Johnson hinted at a recent Fox comedy panel (this panel is hilarious and can be watched here) that they are shooting an episode where aspects of Nick and Jess' relationship are being addressed.
Nick has other things on his mind as he receives a visit from someone who claims to be Nick from the future. 'Future Nick' is being played by Justified's Raymond J. Barry and he claims to know how Nick's life will turn out. This storyline sounds somewhat peculiar in the best kind of way and I'm sure it will provide some brilliant Nick freak-out moments.
This episode also introduces Winston's sister Alisha (Keenyah Hill, America's Next Top Model Cycle 4) who is also a basketball player and Schmidt (Max Greenfield) will attempt to show Alisha his basketball skills. Knowing Schmidt the word 'skills' might be pushing it a little bit, though I'm sure he has the perfect outfit. This also shows that there is not likely to be a reconciliation between Schmidt and Cece (Hannah Simone) at this early point of season 2.
Are you excited for the return of New Girl? Let us know what you would like to see happen in season 2.
New Girl returns to Fox Tuesday, September 25 at 8/7c and 9/8c.
Also check out a New Girl Funny or Die special featuring their new cast member.