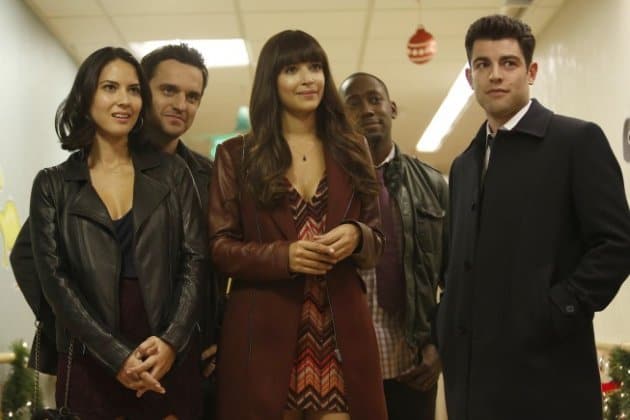 It's holiday party time on New Girl tonight and the group has multiple parties to attend, all of which seem to feature an awkward factor for at least one of them. Hijinks include lap dances, running into ex-boyfriends and worrying about a cranberry that is stuck in an ear; the usual Christmas party events then (well, maybe not the cranberry part).
Last season there was one holiday party, featuring Schmidt (Max Greenfield) as Sexy Santa and Jess (Zooey Deschanel) breaking up with Paul (Justin Long). As there are several events, rather than just one that they are attending tonight, this increases the chances for shenanigans (I have no scientific proof for this theory, but it seems logical).
Firstly, Jess tries to avoid Sam (David Walton), but Winston (Larmorne Morris) inadvertently ruins this plan. It looks like Winston will try to make it up to Jess by having a fake fight with her about their fake relationship. I'm glad that we are getting some Winston/Jess screen time, following on from last week's fake robbery plot as they work well together. Winston has non-romantic concerns tonight as he gets a cranberry stuck in his ear (yes, you read that right).
Jess isn't the only one having a difficult time with an ex, but the Cece (Hannah Simone) and Schmidt situation is more precarious. As they broke up in the season one finale and this season started several months after, we didn't get to see the immediate impact of this break-up. They mentioned that the pair hadn't seen each other all summer, but there was no period of mourning that we were shown. This time however there is the declaration of love, followed by the screw-up and subsequent rejection. As you can see Schmidt is taking it all in a Schmidt-like manner, with passive aggressive assertions and phrases such as "lady jerk." The romantic path shouldn't be easy and this pair has come a long way since the last Christmas episode, in which Schmidt designed Cece her own perfume. Perfume that smelt awful, but Cece wore regardless showing the first spark of Cece returning Schmidt's affection. Will they be ready for Valentine's reunion, one that would mark the first time they got together?
Nick (Jake Johnson) is having a slightly better time relationship wise with Angie (Olivia Munn), though he is close to messing that up too. Nick comes up with an inventive (and embarrassing) way to say sorry that showcases Nick's dancing skills. Angie is sexually adventurous, something that Nick is struggling to keep up with but will try nonetheless. Not that Olivia Munn will be sticking around for the long run (the love interests never do), but as with Lizzy Caplan, Justin Long and Dermot Mulroney she seems to be a good fit for the shows dynamic and I'm looking forward to seeing her interact with the group.
Watch 8 clips from tonight's episode "Santa" below.