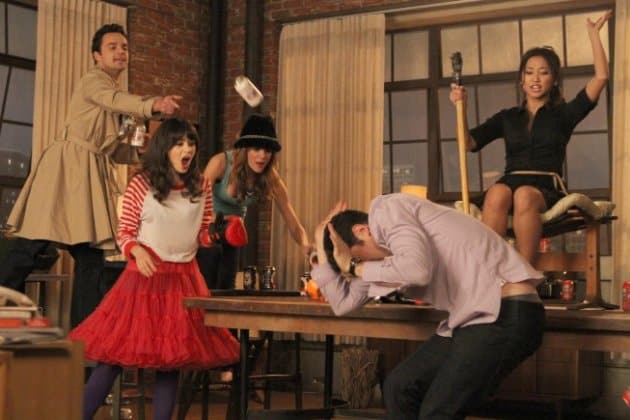 New Girl introduced a new drinking game to the world last season, a game that didn't seem to have a coherent set of rules but one that looked like a lot of fun to play and it goes by the name of True American. Tonight will see the return of True American and this time there are a different set of vague rules as it turns into strip True American. This will lead to a moment that could change the dynamic of the loft. Light spoilers ahead.
It will all begin with a simple guys' only night out as Nick (Jake Johnson), Schmidt (Max Greenfield) and Winston (Lamorne Morris) head out with the aim to find someone to hook up with. At the bar they meet Holly (Brooklyn Decker) who has a thing for sad guys and so Schmidt and Nick will get highly competitive over who is the saddest – surely Nick has this thing won?! Meanwhile Winston meets Daisy (Brenda Song), a woman who has no interest in Winston and this makes Winston instantly more attracted to her.
Jess (Zooey Deschanel) is left at home as sadly she has a cooling effect when Nick is trying to meet woman, Jess is Nick's 'Cooler' (add that to your New Girl dictionary along with 'Pogo' and 'Fluffer'). As you can see from the promo photos, Jess tries to keep herself entertained with varied results and it looks like it could be thanks to her that the night at the bar is cut short. Not a problem though as a game of True American should shake things up pretty quick.
The big event that is being teased appears to be Jess/Nick related as there is a "surprising development" between Jess and one of the loft mates. There have been a lot of scenes with this pair in recent episodes from the slapstick in last week's "Pepperwood" to more emotive moments in the previous weeks dealing with break-ups and disappointment with family. So far the writers have done an excellent job of capitalizing on the chemistry between the actors, who are clearly very comfortable with each other with both these physical and emotional scenes. They have also been very careful early on in the season to point out that yes there is some physical attraction between the pair, but that they aren't going to label it. This might seem like stalling tactics but it is probably necessary when dealing with a 'will they/won't they' situation.
It's one of the age old problems when there is a couple that some viewers want to see together; at what point should they get together and how will it change the dynamic of the show? Some call it the "Moonlighting Curse," the dreaded phrase when dealing with these situations but really all shows are different and sometimes it works perfectly fine. This isn't confirming that something will definitely occur between Nick and Jess tonight, but the promotional material is definitely hinting at the possibility. When handling a 'will they/won't they' another key issue to consider is how much you can tease an audience as you don't want to keep the possibility dangling for too long, so it will be interesting to see what does happen in tonight's episode.
Are you a Nick/Jess fan? Or would you prefer to see them remain as just friends?
Watch four sneak peeks and two preview videos from tonight's episode "Cooler" below.
http://www.youtube.com/watch?v=58tSao0qXSo&hl=en_US&version=3
http://www.youtube.com/watch?v=zj74I6z5Bng&hl=en_US&version=3