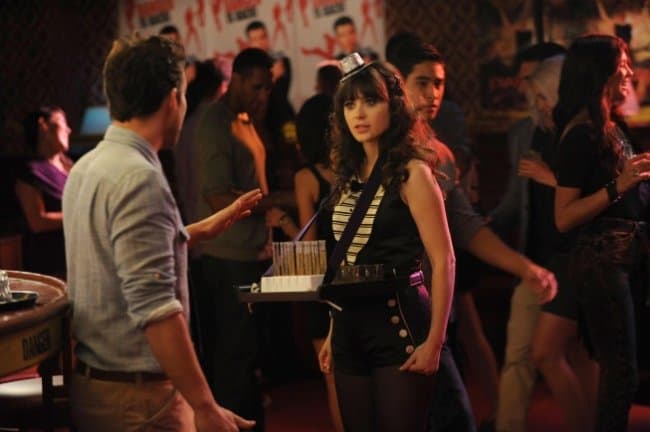 Fox are launching their Tuesday night comedy block next week with two episodes of New Girl and to celebrate this we have 5 sneak peeks from the first episode. Spoilers ahead.
As you can see Fox isn't the only thing launching something on Tuesday as Schmidt (Max Greenfield) is determined to re-brand himself and celebrate the removal of his penis cast. At the end of season one Schmidt suffered an unfortunate injury and this will be his opportunity to reintroduce himself to the dating world. This isn't before we get to see the cast in all its glory and the prop department have done a magnificent job of making this horrific looking thing. We will also find out how long it has been since Schmidt and Cece (Hannah Simone) last spoke and this news will not make fans of this couple very happy.
Schmidt isn't the only one who is facing a new beginning, unfortunately Jess' (Zooey Deschanel) new direction is far less invigorating as she gets made redundant from her job as a teacher. The guys are concerned for Jess and how she will react to such devastating news (remember the pilot episode) but it would appear that she has it all under control. What Jess wants is a job and this is how she becomes one of Schmidt's shot girls, a task she takes very seriously (costume and all). These sneak peeks also show guest star Parker Posey as Schmidt's other less enthusiastic shot girl Casey.
There are some nice moments between Nick and Jess in these sneak peeks, with all the chemistry that has made them a popular will they/won't they couple. This includes Jess trying to do her best mean Nick impression and Nick explaining why Jess has the wrong type of hotness to be a shot girl.
If these clips are any indication then this will be a fantastic start to the new season. Let us know what you hope to see happen in season 2 of New Girl.
New Girl returns to Fox Tuesday, September 25 at 8/7c and 9/8c. You can watch 5 clips from "Re-Launch" below and for more promo photos from this episode head here.