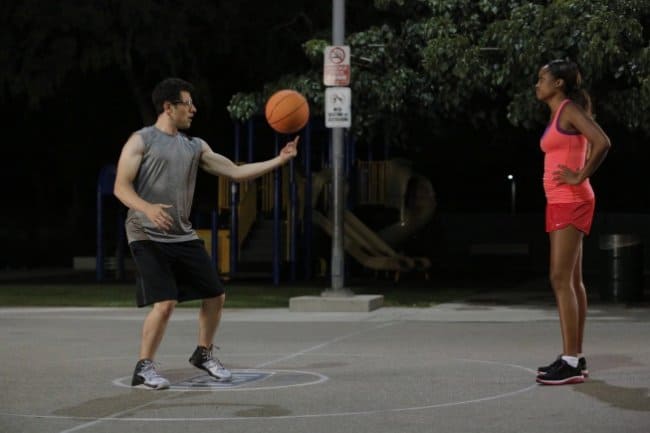 New Girl is back tomorrow on Fox with two episodes and we have clips from the second instalment (for sneak peeks of episode 1 head here) that will see Jess (Zooey Deschanel) attempt to get over her bad news from the premiere. We will also meet some of Winston's (Lamorne Morris) family and Schmidt (Max Greenfield) will set out to impress. Spoilers ahead.
It took the New Girl writers some time to carve out Winston's role within the group as his character was a late addition to the cast. Damon Wayans Jr. was of course the other roommate in the pilot as Coach, but when Happy Endings received a season 2 pick-up he had to leave New Girl. Instead of simply recasting the character, a new one was created instead and it understandably took time to develop who Winston is and what his strengths as a character and performer are. Winston is perhaps the most sensible character of the group, he is the voice of reason when chaos ensues and one of last season's highlights is from the episode "Secrets" where Winston unleashes Theodore K. Mullins to get everyone to quieten down (it was a Saturday morning after all). While it took some time to make Winston more than the guy who used to play basketball, he is now a vital part of the group dynamic and I am glad we will be meeting some members of his family.
Winston isn't the only basketball player in his family and his sister Alisha (former America's Next Top Model contestant Keenyah Hill) is more successful in this field. As you can see from the sneak peeks Schmidt is instantly taken by Alisha, but the same can't be said for Winston's mother Charmaine (Anna Maria Horsford) who is less than thrilled by Schmidt paying her daughter this amount of attention.
In the season opener Jess receives some devastating news and is trying to use all of this new found free time to be creative. The guys react unfavorably to this, especially with the art work that is now hanging in their home and so Nick (Jake Johnson) attempts to get Jess to slow down and try to do nothing. Nick soon realizes that telling Jess to "go off the grid" is not the best advice.
Watch three sneak peeks for "Katie" and an introduction to season 2 from Jake Johnson and Lamorne Morris below and check back with us tomorrow as we will have more clips and an advanced review of the New Girl premiere double-bill.