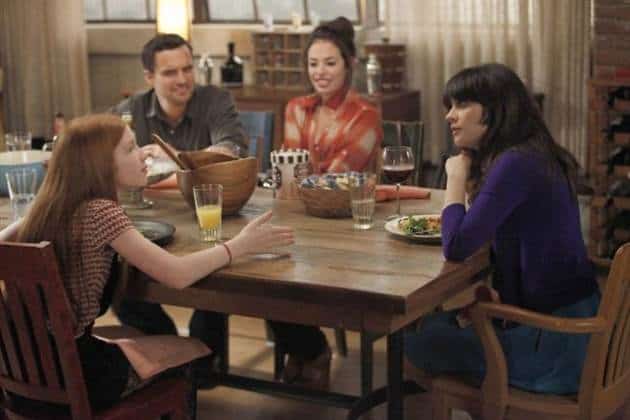 New Girl has so far dealt with dating and career issues, but tonight's episode "Kids" is looking at a range of child related problems. Jess (Zooey Deschanel) is crossing that all important dating threshold by both meeting the ex-wife and babysitting for Russell's (Dermot Mulroney) daughter. Meanwhile, Winston (Lamorne Morris) has gone from being the nanny to dealing with an adult who behaves like a child and a certain couple could be expecting their own bundle of joy.
Last week focused on Russell hanging out in Jess' world after she spent a week living in his fancyman one, but now Jess must conquer the next Russell related hurdle; his ex-wife and his child Sarah (Annalise Basso). Jess is already Sarah's teacher so she has a pre-established relationship that exists inside the classroom, however this is the first time that Jess is meeting Ouli (guest star Jeanne Tripplehorn). This is a big moment for Jess that she doesn't want to screw up, or have her roommates screw up. In true New Girl tradition this is unlikely to go as smoothly as she hopes it will and it really would help if Nick (Jake Johnson) put some pants on.
Jess is concerned that one of Nick's recent conquests will be hanging out at the loft as Nick is still dating college aged women. Is it time for Nick to look beyond these meaningless hook-ups? Spoilers for the final episodes of this season of New Girl would suggest that a certain ex is looming on Nick's horizon and this is sure to make those who want to see Nick and Jess as a couple rather unhappy.
This might be a test to see if Jess is ready to become a mother, though motherhood could become a reality for Cece (Hannah Simone), who is concerned that she might be pregnant with Schmidt's (Max Greenfield) baby. This would be a huge leap from what they are doing now to becoming parents together. Cece confides in Jess who smartly suggests keeping Schmidt in the dark before it is confirmed, though Cece's strange behavior might give the game away. Schmidt offers to take Cece out on a real date and these two should really just admit that they are smack bang in the middle of coupledom. We can also add the word 'popcorn' to the list of words that Schmidt says in an amusing fashion (see also 'youths' and 'chutney').
Winston gets the fun task of babysitting his boss Joe Napoli (Phil Hendrie) who was surprisingly amused by Winston's revenge prank last week. Tonight we will see Winston having to deal with his boss outside of the office and it looks like he will be a massive handful. This will have something to do with Fox Sports' Michael Strahan, who is appearing as himself this week and Strahan has a habit of making Joe feel inferior.
Are you looking forward to seeing how each member of the group will deal with their kid related issues?
Watch a teaser and 6 sneak peeks for tonight's episode of New Girl below.