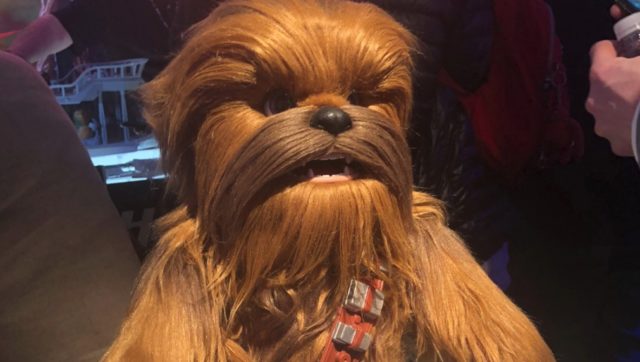 Videos from the New York Toy Fair have been released which feature a Chewbacca soft toy and they have got Star Wars fans brimming with excitement. Star Wars Ultimate Co-pilot Chewie is made by Hasbro Toys, who also make the FurReal Friends Toys, and it is looking likely that they have a potential best seller on their hands.
The toy will go on sale this fall and will be priced at $129.99. Although this may seem expensive the toy is very interactive and has a number of interesting features. It is also more than 16 inches tall so you are certainly getting a lot for your money in that respect. The doll has long brown hair and has his signature ammo belt. He moves and talks just as you would expect him to and you can tell that a lot of effort has gone in to making the toy as realistic as possible.
Chewie will respond to the sound of your voice when you talk to him. He will also wave his arms about and make his signature groaning noise. There are over 100 different sound and movement combinations that he can do and so there is always something new to discover. As well as talking to him you can also get him to respond to you by pressing the button that is in his stomach, gently shaking him or petting the top of his head.
This #Chewbacca toy from @HasbroNews is the greatest thing ever. #ToyFair2018 pic.twitter.com/RwOt945Kef

— Ryan Penagos (@AgentM) February 17, 2018
One of the most appealing features of the toy is that you can rock him to sleep. When he is rocked in this way or just laid on his side then he will close his eyes and make snoring noises. This is a feature that everyone loves but it is definitely a hit with younger fans. This Chewie doll is incredibly cute anyway but even more so when he is asleep, and when you have gotten him to sleep by giving him a cuddle.
There is a reason that Chewbacca is the character that everyone turns to when things get a bit rough. He is loyal and dependable, and is always ready to listen to whatever the person that is venting has to say. You can experience this yourself when you have your own cuddly Chewie doll to share all your problems with. Fans were hoping that the release of the toy would coincide with the opening of the new Han Solo movie in May but it will not be available until a few months after this.
Even though the price of the Chewie doll is quite high, the toy is expected to be a huge hit with Star Wars fans. Memorabilia of any kind always sells well and there are plenty of unique features on this toy that make it worth the money. The main thing that Star Wars fans are looking for is that the things that they buy are relevant to the films and there is no denying that they have got many of Chewbacca's features down to a tee. All fans know that he really is the ultimate co-pilot.