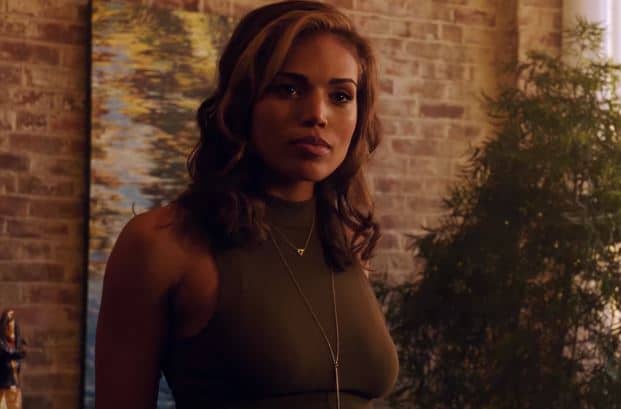 We saw Kendra Saunders struggle with the discovery of who she really is in the crossover between The Flash and Arrow this fall, and from the look of the most recent promo for DC's Legends of Tomorrow, it seems that this inner conflict will continue on into the spin-off series.
The video below, much like the Hawkman promo that The CW released earlier this week, shows the many different sides to Kendra, starting with her Hawkgirl persona, but also throwing out descriptors like "warrior," "goddess," and "princess," before declaring her a full-fledged "legend." And with all the weight of all those titles on her, it makes sense why Kendra would still feel unsure about who she should be, as she laughs off Rip Hunter's idea of destiny.
However, the end of the promo does begin to showcase a different type of Kendra, one that is more assured about who she is and what she has to do to fully become this person.
"I'm never going to become who I really am unless I let go," Kendra says in the video's closing moments, hinting that, sooner rather than later, she will completely become Hawkgirl and, who knows, maybe even start believing in destiny.
DC's Legends of Tomorrow kicks off on Thursday, Jan. 21, at 8 p.m. on The CW. Check out the new, Hawkgirl-centric promo below, along with The CW's full description of the series.
In DC'S LEGENDS OF TOMORROW, when heroes alone are not enough… the world needs legends. Having seen the future, one he will desperately try to prevent from happening, time-traveling rogue Rip Hunter is tasked with assembling a disparate group of both heroes and villains to confront an unstoppable threat – one in which not only the planet is at stake, but all of time itself. Can this ragtag team defeat an immortal threat unlike anything they have ever known?

DC'S LEGENDS OF TOMORROW stars Victor Garber ("The Flash," "Alias"), Brandon Routh ("Arrow," "Superman Returns"), Arthur Darvill ("Doctor Who"), Caity Lotz ("Arrow"), Ciara Renee ("Pippin"), and Franz Drameh ("Edge of Tomorrow"), with Dominic Purcell ("The Flash," "Prison Break") and Wentworth Miller ("The Flash," "Prison Break").
[Photo via YouTube]