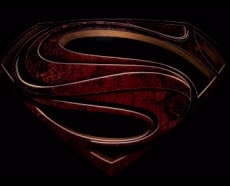 As my friend Paul mentioned in his "History of Superman's Evolution on Television", one of the most successful incarnations of Superman was Smallville. You could analyze its success forever and probably come up with dozens of reasons why it did so well; charismatic cast, relatable characters, excellent writing, modest but effective special effects.  The list goes on.  With one look at this trailer for Zack Snyder's Man of Steel big screen reboot and it is easy to see where a small screen reboot could work.
In many ways, Snyder's Superman seems to borrow heavily from trends that have worked on television.  The trailer is dripping with what JJ Abrams refers to as 'Mystery Boxes', a trend Abrams himself perfected that involves an imbalanced formula of suspense and revelation.  It also seems to pack the level of brooding character dramatics that often compensate for a lack of budget.  In short, it is extremely pulpy without the comic sense of plot inflation that some pulp carries.  It will be a while before we see whether Man of Steel can truly sustain the vibe we see in the trailer, but it is certainly the kind of vibe that could make a huge impact on television.  So, how possible is it?
With Disney's recent acquisition of Industrial Light and Magic, it might be more possible than you think.  According to various rumors one thing George Lucas had envisioned was getting the cost of digital realism down to levels that could be manageable for television production.  This goal was considered a stepping stone to getting a live action Star Wars series.  Of course since Disney now owns Star Wars and is going for big screen films the fate of the series is unknown, but if George's goal is in line then the old notion that big screen special effects were too expensive for the small screen might be put to rest fairly soon.  Why not put it to rest with a Man of Steel inspired spinoff?
The next question is:  can you have two Superman's? This has been dealt with in the past by having Superman be more like Super-young-man.  It seems the idea of crafting a particularly themed 'space' for the character (as in Smallville's highschool to youngman Superman yarn) eliminates most of the mental conflicts for viewers. A potential show-runner would need to do some world building that clearly separates their Superman from Snyder's Man of Steel. What should not be changed is the tone.
If one thing gets me excited for Man of Steel it is the tone. I do think in part it seems to draw from the introspective aspects of Smallville, but I'm sure its true influences lay in deeper and more profound works of character.  In any sense, the maturity portrayed in the trailer triggers a definite craving for something similar on the small screen.  Here's to hoping.