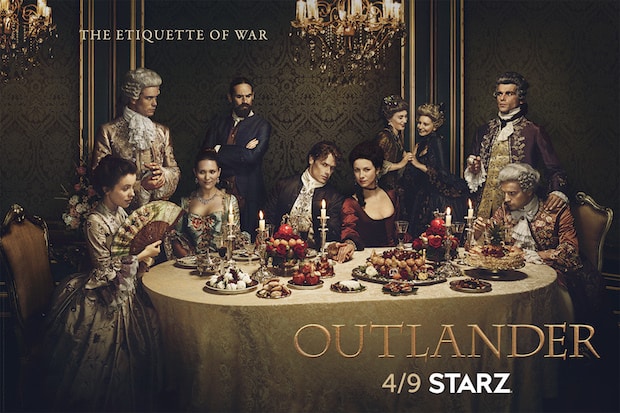 It appears that Claire and Jamie will be getting a lesson on "the etiquette of war" when they arrive in France in Outlander Season 2. The newest poster for the Starz drama's second season centers on a dinner party of sorts, as the couple seem to be surrounded by both friends and foes, with many of the people in the image sneaking glances at each other.
In addition to Claire (Caitriona Balfe) and Jamie (Sam Heughan), featured in the dinner scene above on the poster are Mary Hawkins (Rosie Day), King Louis XV (Lionel Lingelser), Louise de Rohan (Claire Sermonne), Murtagh (Duncan Lacroix), Le Comte St Germain (Stanley Weber), and Prince Charles Stuart (Andrew Gower).
Other newcomers for Outlander Season 2 include So Awkward's Sophie Skelton as Brianna, Harry Potter's Frances de la Tour as Mother Hildegarde, Hatfields & McCoys' Robert Cavanah as Jamie's Jacobite cousin, Jared Fraser, Alien: Resurrection's Dominique Piñon as Master Raymond, French actress Margaux Chatelier as Jamie's former love, Annalise de Marillac, Borgia's Marc Duret as Monsieur Joseph Duverney, and The Bill's Laurence Dobiesz as Black Jack's brother, Alex Randall.
Outlander Season 2 premieres on Saturday, April 9, at 9 p.m. on Starz. If you haven't already, check out the official trailer for the show's second season below:
[Photo via Starz]