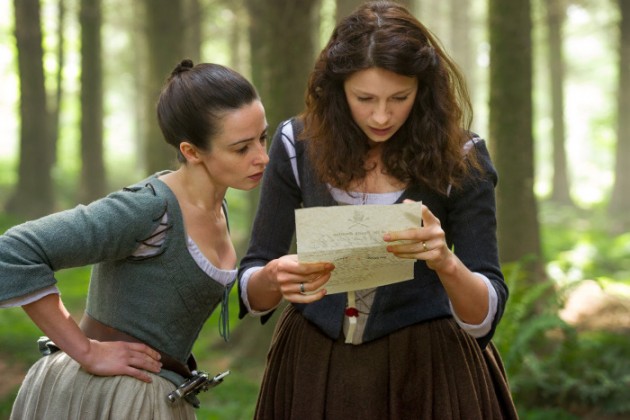 After a hiatus that has felt like forever (seriously, fans have been waiting since the end of September for new episodes), we are exactly two months away from Outlander's return, and in order to help viewers make it through what's being called "Droughtlander," Starz has released an all-new video previewing the upcoming episodes from the back half of Outlander Season 1.
The preview below not only features new footage from what's to come but also interviews with the Outlander cast and executive producer and showrunner Ronald D. Moore, who promises that the second half of the show's first season will be more "complex." Meanwhile, Caitriona Balfe stresses that Claire will not only have to be more honest with Jamie but also more honest with herself when the first season resumes.
"You're just going to really love seeing what it means for the two of them to stay together, rather than get together," she says.
However, perhaps one the most interesting parts of the Outlander preview is that Black Jack Randall will continue to cause more trouble for Jamie and Claire, even after the events of the mid-season finale.
"Jack Randall is not quite finished with our couple, and it's going to be dark," Moore promises, saying how the second half of the season is "all about fallout and repercussions."
And with all of that also comes the introduction (or rather, re-introduction) of some new faces, including Jamie's sister, Jenny (played by Laura Donnelly), who we get to see interact with Claire in the video.
Outlander returns with new episodes on Saturday, April 4, at 9 p.m. on Starz. Watch the new preview below.
[Photo via Starz]