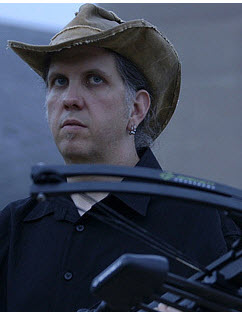 We all had a good laugh when "Doomsday Preppers" came out, a reality show that documents those preparing for the inevitable end of the world. But as crazy as most of these people are, it's not entirely out of the realm of possibility that society COULD somehow collapse in our lifetime, be it from war, disease or some other man-made or natural disaster.
But now we're going one step past that with the new reality show "Zombie Apocaylpse." It will follow a group of people with a very specific type of armaggedon in mind. One that's scientifically impossible.
After watching too many movies, these people really believe that they may have to survive by killing zombies someday. They're trying to pretend like it's somehow based on reality however:
"The most likely ideology for a zombie pandemic would be a viral outbreak, a mutated contagion most likely a virus," says Dr. Steven Scholzman of Harvard Medical School. "Viruses are fascinating organisms and would be very effective at changing us into something approaching the zombies …  They use our DNA they rely on us to spread themselves, so it fits right into the model of zombie pandemic."
Zombism is a disease. Current viruses are diseases. Therefore zombism is possible. Seems legit.
The focus of the show ill be on a family that has made their home a bunker and started the Anti-Zombie Militia of Kansas. If this was all tongue and cheek, Â it would be sort of hilarious, but if not, you're just pointing a camera at people with mental disorders now.