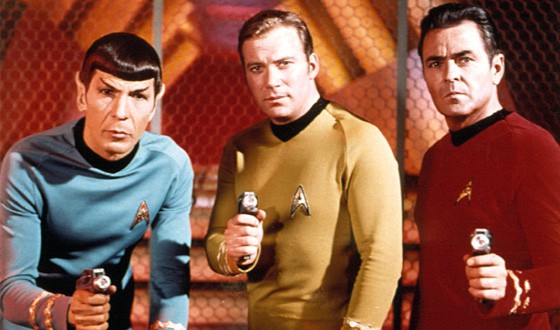 Although Star Trek has been lighting up the big screen for the past few years, after J.J. Abrams successfully rebooted the franchise back in 2009, the epic space series will soon be returning to television. CBS Television Studios announced today that it's launching a totally new Star Trek TV series in January 2017.
The new Star Trek show will kick off with a special preview broadcast on the CBS Television Network. The premiere episode and all subsequent first-run episodes will then be available exclusively in the United States on CBS All Access, the network's digital subscription video on demand and live streaming service. Additionally, the show will also be distributed concurrently for television and multiple platforms around the world by CBS Studios International.
Per CBS, the new Star Trek series will "introduce new characters seeking imaginative new worlds and new civilizations, while exploring the dramatic contemporary themes that have been a signature of the franchise since its inception in 1966." Alex Kurtzman (who co-wrote and produced both Star Trek and Star Trek Into Darkness) will serve as executive producer on the new show
"There is no better time to give Star Trek fans a new series than on the heels of the original show's 50th anniversary celebration," said CBS president David Stapf in a satement. "Everyone here has great respect for this storied franchise, and we're excited to launch its next television chapter in the creative mind and skilled hands of Alex Kurtzman, someone who knows this world and its audience intimately."
"This new series will premiere to the national CBS audience, then boldly go where no first-run Star Trek series has gone before — directly to its millions of fans through CBS All Access," added Marc DeBevoise, executive vice president/general Manager of CBS Digital Media. "We've experienced terrific growth for CBS All Access, expanding the service across affiliates and devices in a very short time. We now have an incredible opportunity to accelerate this growth with the iconic Star Trek, and its devoted and passionate fan base, as our first original series."
Star Trek fans, are you excited for this new TV series? What do you want (and not want) to see from the show? Comment below and let us know.
[Photo via CBS]