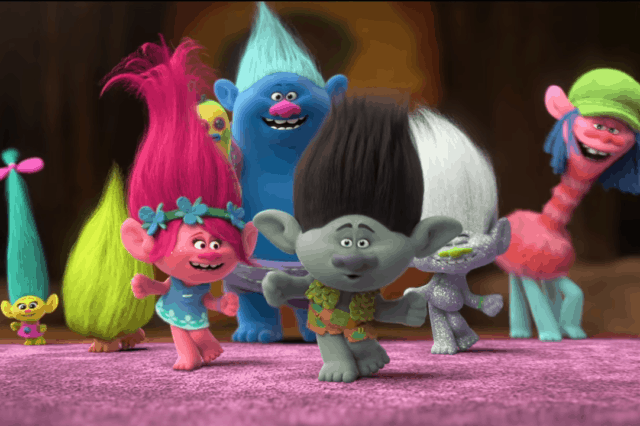 It would appear that the movie Trolls did so well that it was decided that a TV show on Netflix was needed as well. The show just hit Netflix recently on the 19th, as the continuing adventures of Poppy and Branch will be detailed in Trolls: The Beat Goes On. There are currently only six episodes being aired on Netflix and the expectation is that more will be coming in March. Of course it remains to be seen if Trolls will be just as popular as a TV show as it was a movie, but with the kind of songs and offbeat humor that are being offered it's not too likely that people will like this version any less.
Obviously the main characters are going to be voiced by different actors since it's rare that A-list actors will make the transition from movies to a TV show without good reason. Their schedules tend to be pretty packed and getting them to star on a TV show usually takes a pretty monumental effort or some sort of recurring role that attracts them in a way. Also, changing the format from CGI to more traditional cartoons might affect how viewers see the show since the movie introduced them to the CGI characters that seem to have a lot more realism to them than regular cartoons are capable of.
This is a lot of speculation so far to be honest but there are a great many TV shows that became movies and movies that became TV shows that didn't translate all that well. One might argue that for kids it doesn't really matter but they would be wrong on that account as well. Kids tend to notice a lot more than people seem to think and to assume that they can't notice the difference between cartoons is pretty erroneous thinking. There's also the idea that each episode is far shorter than the movie and won't allow the kids to see more than a half hour or so of their favorite characters per episode. And if kids are allowed to binge-watch, which I wouldn't recommend, they could be through the first six episodes pretty quickly.
It could be a hit to be honest since the story isn't all that different even if they'll be going on shorter adventures and be more likely to move the story along a lot quicker. That means the adventures will probably be initiated and concluded within a very short time, which might be great for some kids and not as satisfying for others. It's all a matter of how person views the show and what they're expecting that will decide whether they like it or not. Considering how well Trolls did in the theater it's expected that the cartoon will be well-received and possibly usher in a new level of success that will allow it to keep going for as long as it can. The only caution I think would be wise to pay attention to is that with kids it's best to keep to the source material s long as possible while still coming up with new ideas. Otherwise there's a lot more on the market to look at.