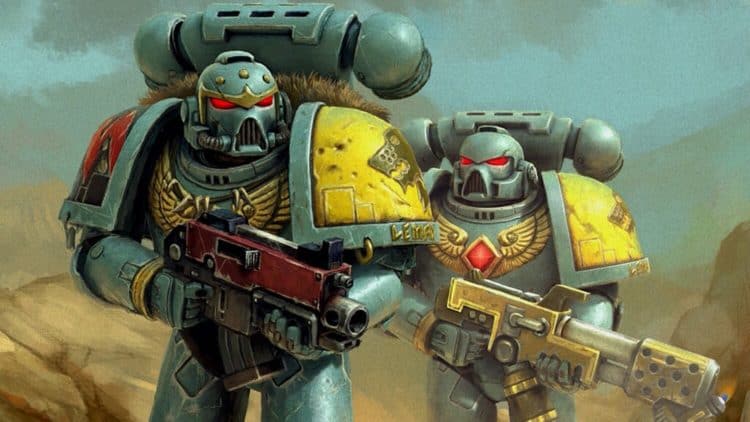 When scifi and fantasy meet it becomes an epic in the making, though whether it's a failure or a success is usually something that needs to be seen once it's been unveiled. When it comes to Warhammer 40K however it sounds as though plenty of people are already looking forward to it as Joey Paur of GeekTyrant is making it quite clear that this move will be one that a lot of people can get on board with. Those that already have a serious love of Warhammer are likely to be looking forward to this development even if it hasn't quite become something that those in charge want to fully comment on just yet. It does sound as though it's going to be kicked into gear eventually, though when we'll see it is kind of hard to pinpoint at this moment. One thing that's evident is that there will be a lot of expansion going on and that fans will likely see the story continue to push outward as the coming anthology series continues to push the envelope and give them what they hopefully want in this series. At this point it's fair to say that a lot of people will probably be pleased no matter what since pushing the story outward and forward is something that a lot of fan bases enjoy when it's done in a manner that's true to the story.
Even better is that it's apparent that the anthology will be staying as close to the source material as it can without too much deviation, which is usually greatly appreciated by fans that have taken the time to become invested in the story. There are a lot of things that can derail a series and pulling away from the source material that gave it life and made it into something that people enjoyed is usually a big step in the wrong direction. If one looks around they can possibly see a great many shows that have deviated from the source material they were derived from that eventually suffered largely because things kept happening that weren't in the original story, or because of something that had to happen simply because of what was or wasn't there from the original material. Hopefully Warhammer 40K will remain true to its roots and continue to entertain the people as thus far it's been gaining in popularity for a while and has managed to pull a lot of people into the fold as they've continued to enjoy the story and follow wherever it leads.
Those series that have been damaged if not entirely wrecked are usually those in which the source has been kept as the core from which the story is derived, but the branching out that is done with any story has gone off course and has done some serious damage to the overall story no matter that it might have made it better now and again. Warhammer is the kind of story that doesn't need to be messed with since it's had plenty of competition throughout the years but it's been sticking around for long enough that it's gained the attention and the overall respect of a lot of people and as a result has become something that a lot of folks tend to enjoy immensely. In such a case when people can't help but enjoy something a person can be guaranteed of one of two things, someone is either going to take it and make it into a great series or movie that people will continue to enjoy for a while, or they're going to butcher it by doing the same thing. It's a big hope that the latter doesn't happen since the stories that have been given by Warhammer are too great to be ruined in such a manner. But an anthology does appear to be the wisest move given the different directions that this series could go in, and fans might agree since an anthology doesn't always follow a linear course but can give a great number of views that derive from the same or similar sources. In other words one can hold to the core idea and branch off in different directions at the same time while always having the possibility of returning to the core material.
So far there's not a lot known about the anthology other than the fact that it's coming, which is enough for a lot of fans since Warhammer is, to them, one of the greatest inventions in storytelling, ever. Everyone has their own opinion obviously, and those that have never heard of Warhammer might want to take a look and at least try to find interest since the series does sound as though it might be kind of interesting. Now we just need to wait and see when it will arrive.