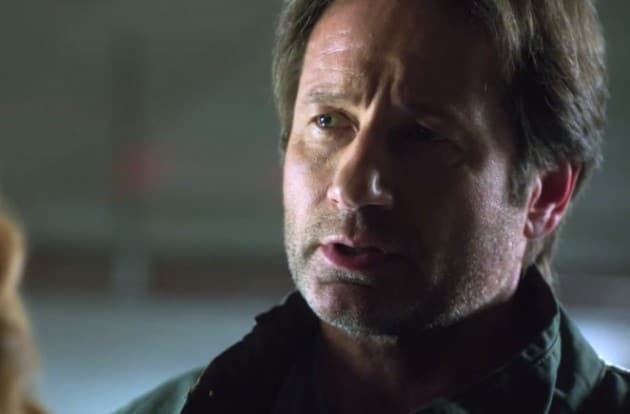 The truth is out there, and even though it's not coming to January, FOX is doing its best to continue to give fans a little taste of The X-Files revival. The latest teaser, which aired last night during the Wayward Pines finale, is only 17 seconds long and doesn't offer too much new information. However, it does feature one very interesting conversation between the iconic X-Files duo.
"Are you ready for this, Scully?" Mulder asks her near the end of the promo.
"I don't know if there's a choice," she responds, before the video cuts to the show's logo.
So what does that all mean? We honestly don't know, but maybe it shows that Mulder will, once again, have to be the one doing the convincing, although this time instead of trying to get his partner to believe in the extraterrestrial, he's just trying to convince her to go back out into the field with him. Really, though, it could be anything, and the not-knowing of it all is what has us so excited for these six brand new episodes.
In addition to Gillian Anderson and David Duchovny, who will be returning as Dana Scully and Fox Mulder, The X-Files revival will also bring back Mitch Pileggi as Walter Skinner and series creator Chris Carter, along with original writers/producers Glen Morgan and James Wong, to write the six-episode limited series. New additions to the cast include Joel McHale (Community) as Tad O'Malley, the anchor of a popular conservative Internet news network who becomes an unlikely ally for Mulder, and Robbie Amell (The Flash) and Lauren Ambrose (Six Feet Under) as new agents.
As mentioned above, The X-Files revival will be a six-episode event series, and it's set to premiere on Sunday, Jan. 24, 2016, following the NFC Championship game on FOX. Check out the new teaser from FOX below.
[Photo via YouTube]