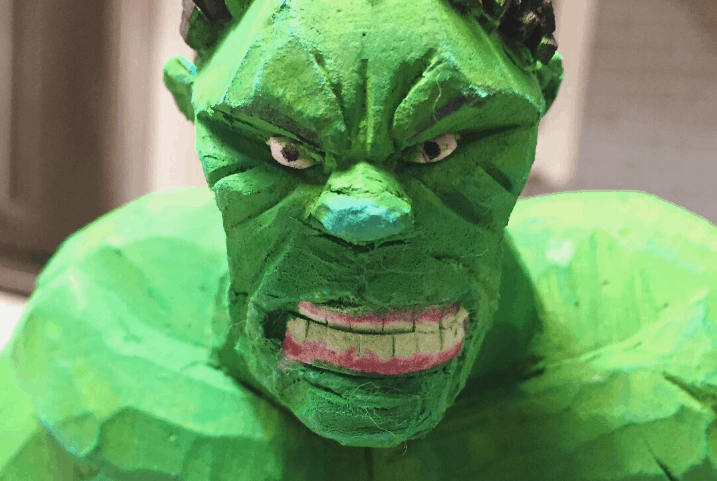 TVOvermind previously featured a Filipino man named Elmer Padilla who makes action figures made out of tsinelas (flip flops in English). He recently became viral because of his impressive works. As a Filipino, I'm proud that a unique and genius work of my fellow countryman is getting recognized internationally. The best part here is that he lives in the same city where I live although I haven't cross paths with him yet.
Recently, Padilla has been in the headlines here in the Philippines as his action figures have reached the hands of Mark Ruffalo and Chris Hemsworth. Last week, ABS-CBN News interviewed the stars of Thor: Ragnarok in Sydney, Australia as part of the press junkets for the movie. During the said interview, they gave Ruffalo and Hemsworth the Hulk and Thor action figures that Padilla made for them respectively. They are both impressed about it. Ruffalo called Padilla a "genius" for using recycled materials for his toys while Hemsworth said that he bets that he is "fantastic" as he would never thought that the figure is made out of discarded tsinelas. You can view their reactions here.
Ruffalo tweeted a shoutout to Padilla along with a photo of him and the Hulk figure:
Believe it or not, this #Hulk doll is made out of recycled tsinelas (that's tagalog for flip-flops). Elmer Padilla made this for me so I just wanted to give a nice shoutout. Not only is this inventively creative, but it's sustainable and just pure awesome! Thank you Elmer! pic.twitter.com/JiA4E91LjZ

— Mark Ruffalo (@MarkRuffalo) October 20, 2017
Last October 23, Ruffalo tweeted another shoutout to Padilla's work. He's really proud of what he made:
This is Elmer! He made my Tsinelas Hulk! I want that Thor! Thanks Elmer! https://t.co/LPRm222I8v

— Mark Ruffalo (@MarkRuffalo) October 23, 2017
Plus, he retweeted a link of the YouTube lyric video of the song "Tsinelas" by Yano:
Padilla decided to make the action figures when he learned that ABS-CBN News will interview Ruffalo and Hemsworth. According to the report, it was due to extreme poverty that Padilla taught himself how to make toys from discarded materials at the age of 9. He said his family used most of their income for necessities, which was why he decided to create his own toys out of the discarded slippers he found on the streets of his hometown. Today, he still struggles to make ends meet for his two small daughters and his wife. But, Padilla said that he likes to believe that he is a modern-day superhero trying to do extraordinary things and working hard to save his family in his own little ways.