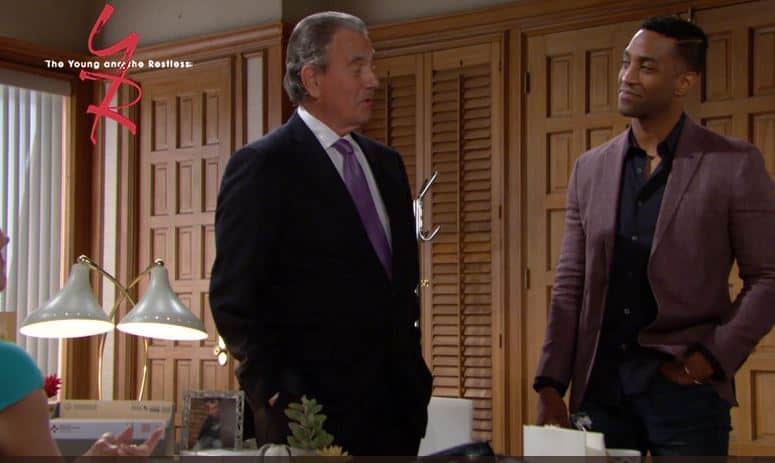 Young and the Restless fans all watched as Victor decided to call a truce. He's in a place where he's saying he wants to make amends with the people in his life, but we call BS on that one. We all know he is nothing short of a manipulator and a liar, and that's all he will ever be. We know this is the truth, and it is what his life is like. So, go ahead and enjoy this feeling of goodness and happiness while it lasts – because it is not going to last. The other main issue is Summer. We just watched her feel very good about her situation. She feels good about where she is and what she is doing, and she shouldn't. She should not feel good about any of it, because she's not on track to get what she wants. Right now, though, she feels that she is, and that makes her feel good.
Nikki is not happy with Sharon – but is she ever? She's pushing boundaries and making things hard on everyone. She could just be nice to her and allow her and her own son to be happy together, but she won't do it. In fact, if she finds out that he slept with Phyllis and is having a difficult time with the temptation of being around her, she might just tell Sharon herself if it means she can get her out of her son's life. We would so not put that past her. Nikki went too far, and we know that Sharon was anything but happy with the way things went and the distance it took to get her there. She's upset, unhappy, and basically more angry than she thought about all of it. It's not good news, but it's going to be what it is.
What's Happening on Young and the Restless
Do you think Sharon will find out about Nick and Phyllis? #YR pic.twitter.com/KHvjmmIKxO

— Young and Restless (@YandR_CBS) August 8, 2018
We just have to ask. Phyllis and Nick are spending all the time together. All the time. And they are sleeping together. And Sharon has no idea this is happening. And we think she's going to find out. And we want to know where you stand on this one. You see, he only just got back together with Sharon and decided after a long and lengthy process of holding her away from him that he would get back into this because he didn't want to end up hurt. Now he's the cheater? What are your thoughts?
What's Next on the Young and the Restless
Billy reveals a secret project today on #YR. pic.twitter.com/ZQGb9rN7Zx

— Young and Restless (@YandR_CBS) August 8, 2018
Jack is making moves, and they are big moves. In fact, we might go so far as to call them daring. He's not working his magic for nothing, and he's not letting his life get in the way of his dreams. Everything has been taken from him in the past few months, and he's tired of it. He's making moves, taking names, and getting what he wants out of life, and no one is standing in his way. In fact, he might just take down a few other names, too, and work on that. But right now, stay tuned to see him take a risk that might pay off for him in a way that might just change his life for the better. It could always come back on him and bite him, but we suspect it will do nothing of the sort and will only help him get through life as it stands.
Phyllis can't do this anymore. She's so annoyed with Billy, his lies, and what is going on in his life. She's not happy with the way things are going, the way they are playing out, and the way that they are falling into her situation without much vigor. She's unhappy with the situation, and she's tired of it. She's lost all of her patience with him, and he will continue to test it today. It's too late for him, though, and he might just know that. He won't stop trying to get what he wants from her, but he's out of patience with her in a major way.
Stay tuned for more Young and the Restless and be sure to check out TVOvermind daily for the latest Young and the Restless spoilers, news, and updates.