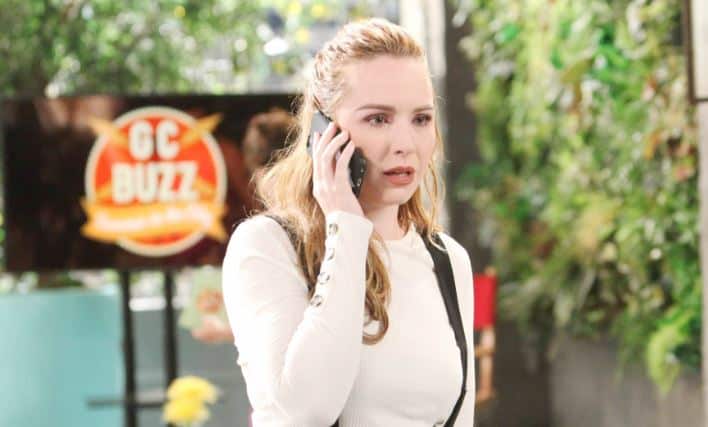 Young and the Restless fans basically left last week without much other than a totally speechless nature. All this time that Sharon and Nikki have thought that JT rose from the grave to come back and haunt them and it's actually Nick pretending to be JT so that he can take down his father. Of course, they know nothing of this plan, but Sharon is aware that Nick seems distant, tired, and focused on things that aren't related to her, their future, or anything else of that nature. We think there is a good chance that they might just have to figure things out with one another a lot faster than they thought they might, but we are watching this unfold and wondering how badly we've all been waiting for Nick to do something like this where he just totally owns it all. We have to say we love it, and it's everything to us right now.
And then there is the fact that we have to get things right with other people, too. Victor is going to do anything to take JT down, and we watched as he made this promise. Phyllis is done with Billy and his games and bad choices. She's kicked him out and she's made it clear to him and her daughter that she will not have this. No one lies to her, let alone her daughter and the man she lives with and calls her own. She's been made to feel stupid and foolish by two of the people who should love and respect her more than most other people, and they've played a very dangerous game with her. She's over it, and she's not playing this game for another moment. We think she has a long way to go.
What's Happening on Young and the Restless
Can you guess who this #YR star is? In honor of @PriceIsRight's Kids Week special starting Monday, we'll be posting throwback photos of some of your favorite Y&R stars! pic.twitter.com/LWdgi89abv

— Young and Restless (@YandR_CBS) July 21, 2018
YTR is celebrating some throw back situations this week, and we want to know if you know who this young star of the show really is? This isn't the only throwback picture you will see all week, either, and this is something you will have to deal with by guessing who it is and whose sweet face this might be. All week long, you'll have a chance to guess a new face with a new photo, and we think this might just be one of the most fun things you will see all week. This is going to be amazing. Can you guess?
What's Next on Young and the Restless
Genoa City is holding on to hope and holding out for a miracle this week on #YR. ❤️ pic.twitter.com/djxitsVqjY

— Young and Restless (@YandR_CBS) July 22, 2018
Kyle is in a good place right now after Billy began to take a big fall. He's going to show up and out at Jabot and really get some edge and potentially a better reputation within the business. He might be able to pull this off, but we will see. We know that we will see him make some positive moves here at the beginning of the week, but we don't know how much more he can do that will take him anywhere else. He does have a long road ahead of him, but we think he can manage to at least get somewhere with all of this. We will also see that Nick has a chance to make a pact with Phyllis.
We have to ask ourselves if this has to do with Summer. They've been spending more time together lately, and she's part of that reason. Otherwise, we think that whatever they are up to is going to hurt more people than not, but it might be something that Nick feels is important in his quest to further take down his own father. He's on the same side a Jack right now, and Phyllis might be there, too. She's been in a bad place with his younger brother lately, and it might make her feel more of an alliance with him and want him to get things done and handled. We don't know, but we will see this all begin to take shape here at the beginning of the week, and it should prove quite interesting to watch.
Stay tuned for more Young and the Restless and be sure to check out TVOvermind daily for the latest Young and the Restless spoilers, news, and updates.