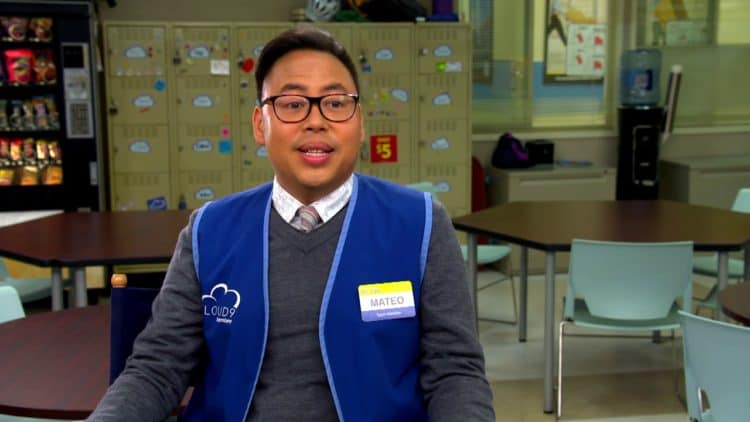 Nico Santos was born on April 7, 1979, in Manila Philippines and became famous after being in "Chelsea Lately." Currently, he is mostly known for his roles in "Crazy Rich Asians" and "Superstore" and was a nominee for the Critics' Choice awards for the latter. The actor owes most of his success to his mother, who has always been his biggest fan, supporting him even after he came out as gay in high school. His film debut came through "Paul Blart" Mall Cop 2″, and for the star, he is barely getting started. Here is everything you need to know about his career and personal life.
1. Why he became interested in his Oliver character
Nico did not even know that there was a book titled "Crazy Rich Asians" neither was he aware that it had sequels. However, one day when his friend met up with Jon M. Chu, she thought Nico would be an ideal fit for the Oliver character. Therefore she enticed him to read the book which Nico did and true to his friend's assumptions, Nico felt he needed to be that character based on Oliver's description in the novel.
2. He went to audition for Oliver's part with an eye patch
Nico's conviction that he should get to play Oliver in the film adaptation of the novel made him pester his agents to try and get him an audition. The persistence paid off months later but booking an audition could not have come at a worse time. He wanted to postpone the audition since he was due for eye surgery but then time waits for no man. Consequently, he went to the audition with an eye patch but had to take it off as he went into the room. Luckily he booked the role as he found out later with a call asking him if he had a passport because he would be flying to Malaysia.
3. Acting alongside Michelle Yeor made him nervous
Nico Santos loves Michelle Yeor who plays the matriarch in "Crazy Rich Asians" and since they had to work together in the film, Nico could not control his nerves. Michelle noticed and asked him to try and remain calm, not knowing that her mere presence was intimidating him.
4. He was a standup comedian
Being a standup comedian can take its toll on a person pursuing it as a career, especially when the audience is not receptive. When Nico was in San Francisco, he did standup comedy but then moved to Los Angeles and had to start all over again. He thought it would take forever to establish himself in the new place, but then doors started opening when he got the chance to be in "Chelsea Lately."
5. His start in acting was because he was in the right place at the right time
Opportunity knocks once in a lifetime, and you must, therefore, be ready to open the door when it does lest you miss out. In 2014, Nico auditioned for the Diversity Comedy Showcase on CBS but instead got to be a writer. His time to shine came when an Asian guy quit the show, and they had to replace him. Luckily, Nico was around, so he found himself as part of the cast after they requested him to read the Asian parts. It changed his life because like Nico said in his interview with Vulture the floodgates opened.
6. He worked in retail for eight years
Nico boasts of having worked in high-end fashion stores including Jimmy Choo and Christine Dior. For eight years he would be selling during the day and then go to do standup comedy when his shifts were over. One of the most memorable moments doing retail is watching celebrities like Paris Hilton dress as everyone watched yet the stores had dressing rooms. However, he had his share of experiences he cringes to recall, such as competing with old women and young girls as they all struggled to make sales.
7. Why he loves his Mateo character in "Superstore."
It is thrilling to land a character to whom you can relate, and Nico finds that Mateo portrays the real him. The actor immigrated to the United States at the age of 16 as he sought to make a better life. Since the show presents the reality of having to live as an undocumented immigrant, he can relate to the character since even his family was at one time undocumented. Besides, with him being Filipino and queer, Nico identifies with Mateo. He told Assignment X that he never in his wildest dreams thought he would play a character that celebrated his identity in full.
8. He envisioned a different version of Mateo than what he read in the script
"See it, be it" is a phrase that any motivational speaker will tell you works in your quest or prosperity. Therefore when Nico read the script for Mateo, he knew he could do much better for the character than what the writers had envisioned. Originally Mateo was a straight Latino guy yet Nico related to him as a gay, Asian guy.
9. He has had to deal with homophobic scripts
After moving on from Diversity Showcase, Nico landed a role in another show. Unfortunately, despite the directors knowing that he was gay, they still included a line for him saying how much he loves underage boys. Nico was angry at the script, thus vented to his friend who emailed the head of diversity. Eventually, his concerns got around the different heads of departments. Therefore since he got the part, he still wonders if his venting helped or he was so ideal for the character that they could not drop him.
10. He is not rushing to get married
Nico at one time praised his boyfriend, Zeke, so much that we are surprised he is not in a hurry to make him his partner for life. The actor said Zeke is not only a good cook but a hot guy who loves taking care of him. Still, last year as they made preparations for Thanksgiving, Nico disclosed they were not rushing to the altar just yet but if it happens, well and good.tow