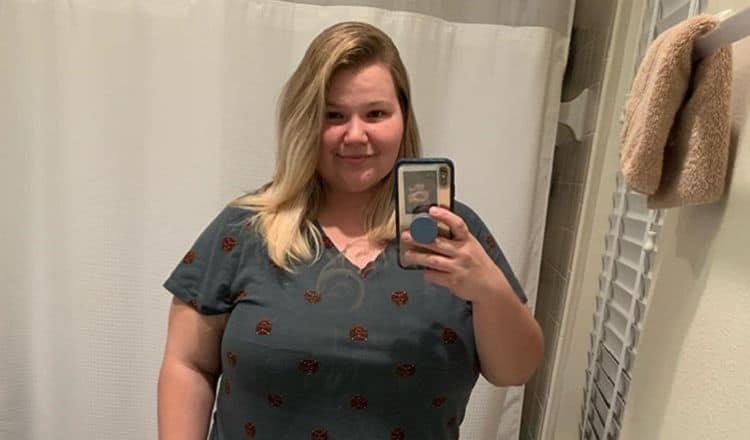 Fans of the television show "90 Day fiancé" cannot get enough of the courtship drama the show has to offer. Nicole Nafziger is famous for her appearance in the 4th season of the reality show. Although her long-distance romance with her fiancé Azan Tefou is full of ups and downs, she still hopes that the relationship will lead to marriage. Currently, Nicole is in a blend of predicaments ranging from her pursuit for romance with her fiancé, which looks so unpromising, to the stigma for her struggles with body weight, and providing for her only daughter whose father is an absentee. Although the series highlights Nicole's journey in solving all these puzzles in life, there are some things you likely need to know about her life.
1. Her father got arrested
The American actress has not been in the news for good reasons for a long time. Many people got accustomed to her controversial relationship with her fiancé, but this time around, it was her father who made it to the headlines. Nicole's father, Tyler, was arrested for slapping a woman alongside being found in possession of drugs. According to Intouch Weekly, Tyler got involved in a quarrel with an unidentified woman before the argument turned physical with Tyler grabbing the woman by her neck. The October 21st incident at a gas station led to Tyler's' arrest, and he was further charged with bonds for both offenses of $500 each.
2. She lost weight
Nicole Nafziger has endured disgraceful remarks regarding her weight and body image; her Instagram followers take the lead in body-shaming her. She, however, stays focused on her quest to be healthy and live a better lifestyle. She claims her biggest motivator in the fitness journey has been Azan. After she gets the figure she desires, she intends to use her platform to inspire and motivate others into the fitness journey.
3. Why she and her fiancé won't be appearing in the TLC series
Speculations surround the abrupt withdrawal of Nicole Nafziger and Azan from the series "90 Day Fiancé". A significant number of fans had no idea why the couple was not to return to the show. She responded to one of her fans on Instagram, who asked if Nicole's departure from the show was due to her alleged physical abuse by her fiancé. According to Inquisitor, she was quick to deny alleged assault and in her defense stated that they opted out of another season due to their decision to maintain a private life away from public scrutiny.
4. Fiancé rumored to be cheating
Nicole Nafziger and Azan appear to be on different courses even though the duo claims to be in a promising relationship. Nicole always stands to defend her fiancé in many circumstances despite Azan being found in compromising situations. Azan is allegedly making a living off scamming women all over the world. A woman interviewed by Reality Blurb gives a chronology of Azan's dark life unknown to Nicole and many fans of the reality show. The woman who got interviewed chose not to disclose her identity. She, however, spills the bean on Azan's involvement with multiple women besides herself and Nicole Nafziger.
5. Slammed critiques
Nicole had too many sentiments from fans regarding her dating life. She, however, decided to stand firmly by her decision as she went guns blazing on her fans who had something to say about her. The Hollywood Gossip reported that the star ran out of patience on fans who are continuously on her case. She took to her Instagram to lash out to her critiques in a lengthy and fierce post, addressing some issues that had spark debate in the public domain.
6. Regrets being on the show
Fans of "90-day Fiancé" would least expect Nicole to feel disappointed with being on the reality show, but Nicole holds quite remorseful feelings towards her appearance on the show. When asked if she would recommend a couple to the show, she sharply rebuked the idea of people taking their relationships public. As for Nicole, she admits that her intention for being part of the show was her belief that the producers of the show would help the couple to secure visas.
7. Her family is opposed to her relationship
Nicole's family members have always openly criticized her relationship with Azan. Nicole's stepfather Joe Fouraker and mother Robalee are reluctant to give their blessings for Nicole's relationship. The parents are skeptical of the engagement after multiple fails in planned weddings. Fouraker even accuses Azan of using his daughter for financial gains and is pessimistic about their marriage.
8. She encourages the daughter to bond with fiancé
Nicole has a daughter, May, from her previous relationship. May's father has been out of the picture in her daughter's life for a significant time. Despite Nicole Nafziger's family disapproval of her fiancé, she, however, encourages her daughter to forge closer ties with her soon-to-be stepfather, Azan. She makes her daughter call Azan Tefou "daddy," which is unpleasant to the family members who do not consider him as a father-figure in May's life.
9. She funds the fiancé
The main reason her family members dislike her fiancé is that he relies on Nicole for financial support. Nicole invested $6000 into Azan's Moroccan beauty store, which he has never proved it even exists. Surprisingly Azan contributed $500 towards the business and went ahead to have the company under his name. Apart from Nicole generously funding the beauty venture, on previous occasions, she sent him money to help in his visa processing and to cater for other expenses. She does not mind offering financial assistance to her fiancé, but her family members are alarmed by Azan's never-ending financial demands.
10. She faced challenges dating a Muslim
Nicole has had her fair share of the problems brought forth by dating a Muslim in the United States. On her Instagram, she recognized fellow women that are engaged to Muslims for shunning hatred towards Islam and Islamic nations.