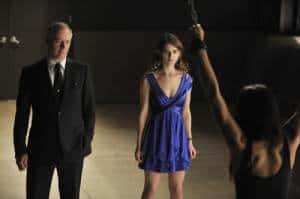 I thought that last week's episode of Nikita dealt with some pretty heavy political stuff you don't usually see on a CW show. It's a more grown-up show than Gossip Girl or 90210, and is probably more akin to the general maturity found in Supernatural. But I don't think this is a hindrance, because the show keeps getting better and better each week. The addition of Devon Sawa as a rogue agent and Nikita's sometimes partner to take down Division was terrific and I miss him when he doesn't show up in every episode.
I've been hooked since the pilot and I feel like the show builds on itself and improves with each episode. The episodes that looked back into Nikita and Michael's pasts were particularly good. Now the mid-season finale, entitled "All The Way", will be airing on December 9, and the show will go on a short hiatus until January 27.
"All The Way" is one of the top 2 or 3 episodes of Nikita thus far. The pacing of it is excellent. There isn't a wasted moment of screen-time. Every scene moves the story along at a quick pace, but nothing feels rushed – everything just feels incredibly tense. In fact, it's probably one of the most suspenseful episodes of the series.
We open with Alex, who is given the opportunity to graduate to a full agent if she successfully carries out a mission and kills someone. She informs Nikita, who wants to step in to spare her from taking a life. Meanwhile, Birkoff discovers the messaging program that Nikita and Alex have been using to communicate and Division goes on an internal hunt for the mole, with Percy and Michal at the helm. With Alex trying to get into the right mindset to carry out her first real mission, she certainly doesn't need to be dealing with Jaden, who's determined to prove that Alex is the mole. Unfortunately, the mission doesn't go as originally planned and Nikita has to step in.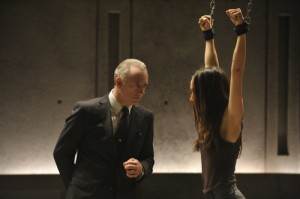 I don't want to give away any spoilers from the screener I was sent by Warner Brothers, but it wouldn't be much of a shock to tell you that Nikita gets captured – what with the sneak peek floating around of her fighting Division agents in the training room (watch it here). However, I won't spoil the ending for you, which has a twist and is pretty emotional. While the episode itself is a terrific hour of television, it's the ending that really opens the door for what will happen in 2011. Things will be changing and some people will be taking on new roles. The possibilities for new storylines and a tiny shift of focus will be there.
The action sequences in this episode are top notch. Nikita fights her way through over 10 Division agents in a scene that's pretty amazing (watch that sneak peek linked to above). But lest you think it's all action and no character development, let me tell you that several relationships get explored. There's definitely something there between Michael and Alex. I don't think it's sexual, I think it's more familial, where he's acting as her surrogate older brother. Alex and Thom also share a few moments that leave you wanting more. We also see flashbacks to Alex living with Nikita and learn the origin of their plan to get Alex into Division. Nikita's relationship with her now dead fiance is also explored in sad detail.
The actors give their all in this episode, especially Lyndsy Fonseca as Alex. Melinda Clarke is also back as Amanda, and in a torturing role to boot. I don't know why, but I find Amanda as torturer to be an incredibly intimidating character, even if she isn't physically hurting someone (though I kind of want to see her put her money where her mouth is one day and prove to us that she deserves the title of Division's scariest interrogator).
If you're not watching Nikita, you should be. If you already are, then I think you'll be happy with the mid-season finale and will be looking forward to a new chapter in January 2011. But that's all I can tell you about the December 9 episode without spoiling you too much!
You can view a promo and a sneak peek below.
clarissa @ tvovermind.com
twitter.com/clarissa373
twitter.com/tvovermind